Researchers from Brighton University and Toyo University in Japan have developed a system that could recycle carbon dioxide (CO2), the greenhouse gas blamed for global warming.
Experiments carried out by scientists from both universities show that CO2 gas can be transformed into a non-polluting carbon solid.
Dr Raymond Whitby from Brighton University along with Takahiro Fukuda and Prof Toru Maekawa from Toyo University made the discovery when looking at the formation of solid structures from fluids in their critical state.
The scientists found that by filling an aluminium cell with CO2, increasing the pressure to its critical point and firing a laser repeatedly into the critical fluid, resulted in columns of nano- and micro-scale carbon. Essentially CO2 is transformed into non-polluting carbon.
'It's a fantastic result, but we recognise there is still a long way to go,' said Prof Maekawa.
The teams are now working towards understanding the underlying mechanisms of the CO2 conversion.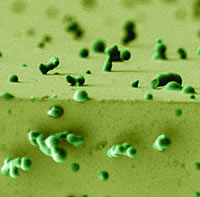 'If the technology can be developed, it is envisaged that CO2 exhaust can be piped directly into reactors to be converted. This could have obvious applications for some of the world's biggest polluters including oil refineries and coal-fired power stations,' said Dr Whitby.
'Currently there is no satisfactory solution available for dealing with CO2 emissions and we should look in all possible directions. This solution, albeit unexpected, may give us such an opportunity. It is also an example of benefits offered by international collaboration,' added Prof Sergey Mikhalovsky from Brighton University.