has introduced a 4-Gbps low-voltage differential signalling (LVDS) and low-voltage pseudo emitter-coupled logic (LVPECL) repeater and translator.
Featuring low total jitter of 45 ps, the devices help ensure signal and clock integrity in various communications applications including high-speed network routing, wireless base stations and 622MHz central office clock distribution, and they can also serve as translators in an array of consumer applications.
Both the SN65LVDS and SN65LVP20 connect a high-speed differential receiver and driver as a repeater. The receiver accepts low-voltage PECL signals at rates up to 4 Gbps and repeats them as LVDS (LVDS20) or LVPECL (LVP20) output signals.
The differential signal path through the devices minimises electromagnetic interference (EMI) and limits added jitter, which are key issues in communications and consumer electronics design. The new devices offer 3.3V and 2.5V operation, enabling designers to migrate to a 2.5V supply as system needs dictate.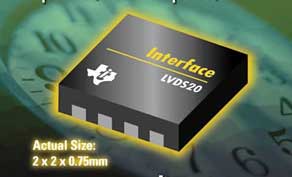 The LVDS20/LVP20 are available in volume from TI and its authorized distributors, packaged in an eight-pin, 2 x 2 x 0.75 mm Lead (Pb)-Free small-outline, no-leads package (SON).
Suggested resale pricing in 1,000-piece quantities is $3.30 for the LVDS20 and $4.40 for the LVP20.