The National Science Foundation's (NSF) division of ocean sciences has awarded nearly $1m (£0.6m) to scientists at the Scripps Institution of Oceanography in La Jolla, California, to develop a breed of ocean-probing instruments.
Jules Jaffe and Peter Franks will spearhead an effort to design and deploy autonomous underwater explorers, or AUEs, that will capture the fine details of oceanographic processes vital to tiny marine inhabitants.
By capturing data on localised currents, temperature, salinity, pressure and biological properties, the AUEs will offer new information about a range of ocean phenomena.
'These innovative AUEs will allow researchers to sample the environments of coastal regions and to better understand how small organisms operate in the complex surroundings of the oceans,' said Phillip Taylor of NSF's division of ocean sciences.
The miniature robots will aid in obtaining information needed for developing marine-protected areas, determining critical nursery habitats for fish and other animals, tracking harmful algae blooms and monitoring oil spills.
For marine-protected areas, AUEs will help inform debates about the best areas for habitat protection. The instruments can be deployed directly to gauge how harmful algal blooms and oil spills develop and change over time.
AUEs work through a system in which several football-sized explorers are deployed with many tens - or even hundreds - of pint-sized explorers. Collectively, the entire 'swarm' of AUEs will track ocean currents that organisms at a small-scale, such as tiny abalone larvae for example, experience in the ocean.
'AUEs will give us information to figure out how small organisms survive, how they move in the ocean and the physical dynamics they experience as they get around,' said Franks.
During the pilot phase of the project, Jaffe and colleagues will build five to six of the football-sized explorers and 20 of the smaller versions.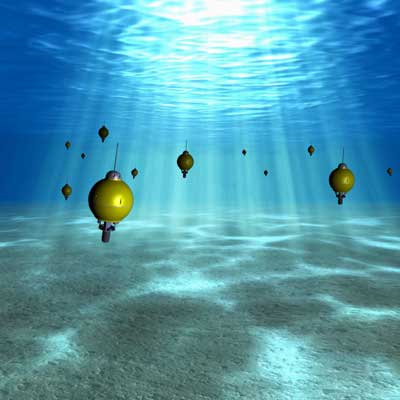 In a related funding award, the researchers have been given $1.5m (£0.9m) from NSF's Cyber-Enabled Discovery and Innovation initiative to design and develop the systems necessary to control the movement of the AUEs.
That aspect brings Jaffe and Franks together with researchers at the Cymer Center for Control Systems and Dynamics at University of California, San Diego's Jacobs School of Engineering and the San Diego Supercomputer Center.