The first engine in the series - the Ricardo Wolverine 3 - is designed to power lightweight aircraft and use military-specification heavy fuels. It is a 3.1-horsepower, two-cylinder, two-stroke, air-cooled engine with spark ignition, direct fuel injection and 500W of onboard power, made possible by an integrated starter generator.
Engineers at Ricardo's Detroit Technology Campus in Van Buren Township are said to have taken the Wolverine 3 from concept to production readiness in six months and they successfully completed the engine's 'first fire' on a dynamometer test stand in early May.
Wolverine 3 will now be installed in a small tactical UAV in preparation for its first flight, which is scheduled for summer 2010 at a test site in Nevada. Ricardo is currently in talks with over a dozen UAV integrators about putting the engine into series production.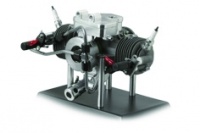 According to Dr Ron Storm, director, military market development at Ricardo, smaller UAVs routinely carry multimillion-dollar systems of cameras, sensors and other electronics, but are typically powered by petrol engines originally designed for lawn and garden equipment, or model planes.
'Today, the engine is the weak link in the UAV system, especially in these smaller aircraft,' said Storm. 'The military and aircraft integrators worked with off-the-shelf engines and adapted them for UAVs so they could deploy the technology to war fighters rapidly. However, the engines weren't designed as part of a complete system around the needs of soldiers in the field, so failures have been unacceptably high.'
Tom Howell, Ricardo's chief engineer added: 'It's not uncommon for engines to fail after only a few hours of service and poor fuel quality is often the culprit. Our heavy-fuel design will help reduce these costly failures.'
Going forward, Ricardo said it is studying plans to develop Wolverine engines to power UAVs with heavier payload and greater range and endurance requirements.
Key specifications of the Wolverine 3:
Configuration: Two-Cylinder
Cycle: Two-Stroke
Cooling: Air
Power: 3.1hp/2.3kW
Displacement 5.37in3/88cc
Max. Speed 6,000rev/min
Ignition: Spark
Fuel Injection: Direct
Starting: Starter Generator 500W
Width: 10.5in/267mm
Height 6.9in/175mm
Length 7.6in/193mm