The Ricardo Vehicle Emissions Research Centre (VERC), one of the world's most advanced emissions test facilities, was opened by Bloodhound project director Richard Noble as part of the company's centenary celebrations at its Shoreham-by-Sea headquarters.
The VERC facility is capable of testing anything from small passenger cars to light trucks of up to three tonnes, including advanced hybrid electric vehicles and technologies such as energy regeneration and start/stop systems.
Importantly for hybrid and plug-in hybrid vehicle testing, it can measure battery state of charge as well as emission levels.
The facility is designed to do much more than simply testing that vehicles are meeting emissions regulations, according to Richard Murphy, head of UK test operations at Ricardo.
"The design behind the facility was to deliver more than the level of accuracy that the current and future legislation requires," he said. "Our bread and butter is in developing the technology that gives you the capability for those emissions targets, and for that engineers can require accuracies of 0.1 or 0.5 per cent," he said.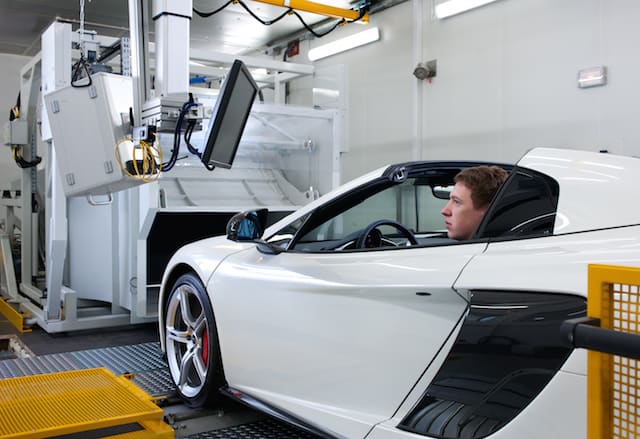 The facility is designed to test four-wheel drive powertrains of up to 300 kilowatts, and can simulate road speeds of up to 250 kilometres per hour. It is also capable of carrying out climate controlled tests with a temperature range of -30 to + 55 degrees Celsius, and with humidity regulation.
The facility's measurement systems can support vehicle development projects to the highest worldwide emissions regulations. This includes Euro 6 and 7 and the US super ultra-low emission vehicle (SULEV), the equivalent of producing 90 per cent less emissions than a conventional gasoline engine.
To this end, VERC is equipped with three Constant Volume Sampler tunnels – in which exhaust gas is diluted to allow emission levels to be measured. These include the separate tunnels for diesel and gasoline engines found in most facilities of its type, alongside a unique third tunnel for testing the very lowest emission SULEV vehicles.
"We work with a range of companies, including those from India, China and other emerging markets, where the [emissions] technologies can sometimes be quite a bit behind," said Murphy. "So it was absolutely critical for us that if we were working on a super-low emission vehicle for the US or European market, there could be no risk of any cross-contamination."
The facility, which was part-funded by the government's Regional Growth Fund, is equipped with gas analysers to measure carbon monoxide, oxygen and nitrogen oxide and nitrogen dioxide (NOx), as well as carbon dioxide and after-treatment technologies such as exhaust gas recirculation.