The robotic handling system, which will be capable of remotely repairing, maintaining and replacing the huge Neutral Beam injectors at ITER, is being developed by Amec Foster Wheeler in a €70m contract for the European Union organisation Fusion For Energy (F4E). It is the largest nuclear robotics contract ever let to a UK company.
ITER, located at Cadarache in the south of France, is the world's largest fusion energy project, designed to demonstrate the feasibility of the technology as a future power source.
The Neutral Beam injectors, each the size of a single-decker bus, are used to heat up the plasma inside the reactor until it is hot enough for fusion to take place, according to Jon Montgomerie, chief engineer for the European Remote Handling Alliance, the Amec Foster Wheeler-led group of companies and universities that will build the robotic system.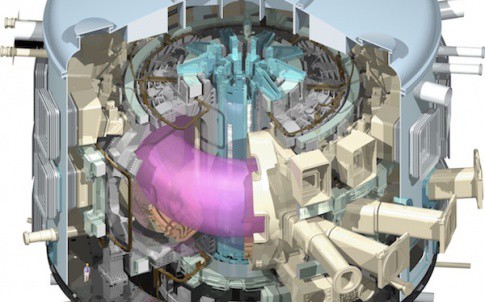 During outages, these injectors, known as Beam Lines, need to be remotely maintained to ensure the efficient and safe running of the system. "Inside the Beam Lines the radiation doses will be quite high, so there is no way they could be maintained by hand," said Montgomerie.
Instead, the injectors will be maintained by machines called Beam Line Transporters. These consist of a large beam, similar to a monorail, on which a saddle will travel. Projecting out from this will be an articulated beam with six degrees of freedom, on the end of which will be a pair of robotic arms capable of carrying out maintenance work using a range of different tools.
"There are three Beam Line Transporters, which can each wriggle around and place the manipulator module in a suitable position to carry out maintenance work," said Montgomerie.
A fourth, floor-mounted module known as the Beam Source Remote Handling Machine, will be capable of reaching into the open back door of each of the vessels and disconnecting and replacing the Beam Source itself.
Among other tools, the Beam Line Transporters will be equipped with cutting and welding equipment. This will allow them to precisely cut and then reinstate the plethora of water-cooling pipes used to reduce the temperature inside the injectors, whenever one of the components inside needs replacing, said Montgomerie.
The Amec Foster Wheeler-led alliance also includes the UK's Culham Centre for Fusion and the Hyde Group, alongside a number of European universities and companies.