Researchers at the Georgia Institute of Technology have developed piezoelectric transistors - electronic components that translate pressure into electrical signals - they say could give robots a much more accurate sense of touch.
'This is a fundamentally new technology that allows us to control electronic devices directly using mechanical agitation,' said Georgia Tech's Prof Zhong Lin Wang in a statement.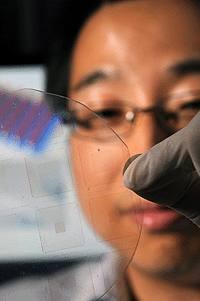 'This could be used in a broad range of areas, including robotics, MEMS, human-computer interfaces and other areas that involve mechanical deformation.'
He added, 'Any mechanical motion, such as the movement of arms or the fingers of a robot, could be translated to control signals. This could make artificial skin smarter and more like the human skin. It would allow the skin to feel activity on the surface.'
Unlike current touch sensors that measure changes is electrical resistance, the new transistors - dubbed "taxels" - are formed from bundles of around 1,500 vertically aligned nanowires made from zinc oxide that generate electricity when put under pressure.
The taxels are arranged in arrays that are transparent and flexible, which could allow them to be used on touch-pads or other devices for fingerprinting.
The researchers said the technology could also be able to create more secure electronic signatures written on touch pads by recording the speed and pressure with which the signatures are written as well as their shape.
The taxels are gathered in arrays of more than 8,000 taxels sandwiched between two indium tin oxide electrodes covered by a layer of gold. The arrays are then coated with a thin layer of the polymer Parylene to protect against moisture and corrosion.
The arrays are the arranged with a density of 234 pixels per inch, creating a resolution is better than 100 microns, meaning the sensors are capable of detecting pressure changes as low as 10 kilopascals – comparable to that of the human skin.
Future work will include producing the taxel arrays from single nanowires instead of bundles and integrating the arrays onto CMOS silicon devices. Using single wires could improve the sensitivity of the arrays by at least three orders of magnitude, Wang said.
The research is published in the journal Science. It was sponsored by the Defense Advanced Research Projects Agency (DARPA), the National Science Foundation (NSF), the U.S. Air Force (USAF), the U.S. Department of Energy (DOE) and the Knowledge Innovation Program of the Chinese Academy of Sciences.