Windshear, the world's first commercially available full-scale, single belt, rolling road wind tunnel will be open for business in North Carolina in early 2008.
Built by Haas, the Windshear wind tunnel and rolling road will be available for hire to all motor sports teams and auto manufacturers, providing services previously available only to top Formula 1 teams.
Although two similar rolling-road facilities exist in Europe, and numerous scale-model tunnels operate worldwide, most other facilities around the world are proprietary operations, owned and operated by manufacturers, or race teams, for their own use.
Windshear has been designed to accommodate 100 per cent full-scale vehicles, and provides constant airspeeds up to 180mph, with temperatures controlled to within plus or minus 0.55ºC.
The high-tech rolling road is 3.2m wide by 9m long, and cars can accelerate from zero to 180mph (290kmh) in less than one minute.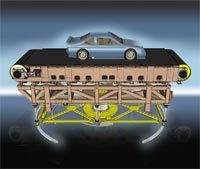 The 'road' is actually a continuous stainless steel belt just one millimetre thick, and it's designed to last up to 5000 operational hours.
During testing, 'through-the-belt' sensors measure the aerodynamic down force under each tyre while an on-board data acquisition system collects other test-critical data.