Engineers and applied physicists from Harvard University have demonstrated the first room-temperature electrically-pumped semiconductor laser source of Terahertz (THz) radiation, also known as T-rays.
'Terahertz imaging and sensing is a very promising but relatively new technology that requires compact, portable and tuneable sources. Our devices are an important first step in this direction,' said Federico Capasso, a senior research fellow in electrical engineering at Harvard.
'We believe our laser has great development potential because the nanoscale material used was grown by molecular beam epitaxy, a commercial and widely used thin film growth technique.'
Using lasers in the Terahertz spectral range, which covers wavelengths from 30 to 300µm, has presented a major hurdle to engineers. In particular, making electrically pumped room-temperature and thermoelectrically-cooled Terahertz semiconductor lasers has been a major challenge. These devices have, in the past, required cryogenic cooling, greatly limiting their use.
'By contrast, our device emits T-rays with several hundreds of nanowatts of power at room temperature and dissipates microwatts of power so it can be cooled by a thermoelectric cooler,' said Mikhail Belkin, a Professor of Applied Physics at Harvard. 'Further, there is the potential of increasing the terahertz output power to milliwatt levels.'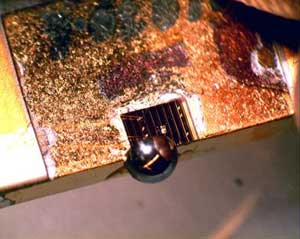 To overcome the temperature limitations of current laser designs, the researchers engineered a room temperature infrared Quantum Cascade Laser (QCL) that emits light at two frequencies simultaneously. The generation of T-rays occurs at room temperature inside the laser material via the process of difference-frequency generation. The frequency of the emitted radiation is 5THz (equal to the difference of the two infrared QCL frequencies).