Norsepower said savings of 2.6% were made in a six-month trial using one of its 18m rotor sails on a route in the North Sea.
"It is the first-ever modern auxiliary wind propulsion system that has this kind of proof of concept," Norsepower CEO Tuomas Riski told The Engineer.
The Rotor Sail Solution is a modernised version of the Flettner rotor – a spinning cylinder that uses the Magnus effect to harness wind power.
When wind meets the spinning rotor sail, the airflow is accelerated on one side of the equipment and restricted on the other.
The resulting pressure difference creates a force perpendicular to the wind flow direction – a lift force.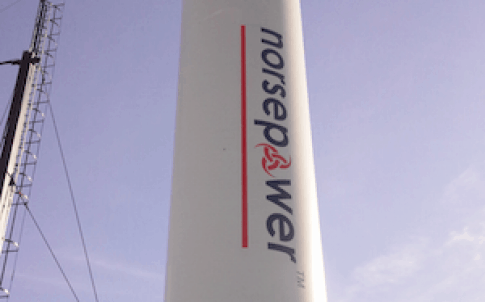 An electric drive system powered by the auxiliary grid in the vessel is used to rotate the rotor sails.
When wind conditions are favourable, the rotor sails allow the main engines to be throttled back, saving fuel and reducing emissions.
Compared with other methods aimed at improving vessel fuel efficiency, such as air bubble systems, the Norsepower solution was the only one bringing renewable energy to the board, Riski said.
"The typical systems are only decreasing drag and consumption through those methods. Our system is bringing extra kilowatts of auxiliary wind power."
For the trial the Norsepower system was installed on the 9,700dwt roll on-roll off carrier Estraden owned by Finnish company Bore, which operates between the Netherlands and the UK.
The results were overseen by maritime data analysis, software and services provider NAPA and Finland's VTT Technical Research Centre.
Weather conditions were mainly calm throughout the study. Windier conditions would increase the amount of power generated.
Bore and Norsepower believe a full system with two rotors on Estraden could deliver 5% efficiency savings.
Norsepower forecasts savings of 20% for vessels with multiple large rotors travelling in favourable wind routes.
A turnkey system with three medium-sized rotors would cost about €2m, Riski said.
"If you have enough favourable wind conditions on the route you can pay that kind of system back in four years," he added.
Rotor sails can be used with new vessels and retrofitted on existing ships. The required number of rotor sails and the size of each sail are based on the size, speed and operating profile of each vessel. Rotor sails are available in 18m, 24m and 30m sizes.
"The average wind speed of the global oceans is 7m/s. If you have average wind speed, meaning statistically, more than that and if the wind distribution is such that we are likely to have beam wind on your typical route, that's what I call favourable conditions," Riski said.
"To understand the business case you need to combine the rotor configuration with the properties of your vessel, with your route and with the wind statistics from that route. It is a question of simulation but we have really good tools to do that nowadays."