Scientists are diligently working to understand how and why the world's ice shelves are melting. Unfortunately, the locations in question are volatile ice sheets, possibly cracking, shifting and filling with water - not exactly a safe environment for scientists.
To help scientists collect the more detailed data they need without risking scientists' safety, researchers at the Georgia Institute of Technology, working with Pennsylvania State University, have designed robots called SnoMotes to traverse these potentially dangerous ice environments.
The SnoMotes work as a team, autonomously collaborating among themselves to cover all the necessary ground to gather assigned scientific measurements. Data gathered by the Snomotes could give scientists a better understanding of the important dynamics that influence the stability of ice sheets.
'Our goal was to create rovers that could gather more accurate data to help scientists create better climate models,' said Ayanna Howard, lead on the project and an associate professor in the School of Electrical and Computer Engineering at Georgia Tech.
Howard, who previously worked with rovers at NASA's Jet Propulsion Laboratory, is working with Magnus Egerstedt, an associate professor in the School of Electrical and Computer Engineering, and Derrick Lampkin, an assistant professor in the Department of Geography at Penn State who studies ice sheets and how changes in climate contribute to changes in these large ice masses.
Lampkin currently takes ice sheet measurements with satellite data and ground-based weather stations, but would prefer to use the more accurate data possible with the simultaneous ground measurements that efficient rovers can provide.
The SnoMotes are autonomous robots and are not remote-controlled. They use cameras and sensors to navigate their environment. Though current prototype models don't include a full range of sensors, the robots will eventually be equipped with all the sensors and instruments needed to take measurements specified by the scientist.
While Howard's team works on ensuring that the robots have the mobility and Artificial Intelligence (AI) skills to complete missions, Lampkin's team will be creating a sensor package for later versions of Howard's rovers.
When they are ready for their glacial missions, scientists will select a location for investigation and decide on a safe 'base camp' from which to release the SnoMotes. The SnoMotes will then be programmed with their assigned coverage area and requested measurements.
The team has already created three working SnoMote models, but as many SnoMotes as necessary can work together on a mission, Howard said.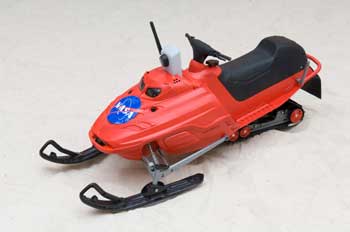 Once placed on site, the robots place themselves at strategic locations to make sure all the assigned ground is covered. Howard and her team are testing two different methods that allow the robots to decide amongst themselves which positions they will take to get all the necessary measurements.
The first is an 'auction' system that lets the robots 'bid' on a desired location, based on their proximity to the location (as they move) and how well their instruments are working or whether they have the necessary instrument (one may have a damaged wind sensor or another may have low battery power).
The second method is more mathematical, fixing the robots to certain positions in a net of sorts that is then stretched to fit the targeted location. Magnus Egerstedt is working with Howard on this work allocation method.
In addition to location assignments, another key innovation of the SnoMote is its ability to find its way in snow conditions. While most rovers can use rocks or other landmarks to guide their movement, snow conditions present an added challenge by restricting topography and colour (everything is white) from its guidance systems.
For snow conditions, one of Howard's students discovered that the lines formed by snow banks could serve as markers to help the SnoMote track distance travelled, speed and direction. The SnoMote could also navigate via GPS if snow bank visuals are not available.
While the SnoMotes are expected to pass their first real field test in Alaska next month, a heartier, more cold-resistant version will be needed for the Antarctic and other well below zero climates, Howard said. These new rovers would include a heater to keep circuitry warm enough to function and sturdy plastic exterior that wouldn't become brittle in extreme cold.