According to the European Space Agency, (ESA), the 2.3 tonne satellite lifted off on a Soyuz rocket from Europe's Spaceport in Kourou, French Guiana at 2102 GMT, with the first stage separating 118 seconds later, followed by the fairing (209 seconds), stage two (287 seconds) and the upper assembly (526 seconds).
After a 617 second burn, the Fregat upper stage delivered Sentinel into a Sun-synchronous orbit at 693km altitude. The satellite separated from the upper stage 23 minutes 24 seconds after lift-off.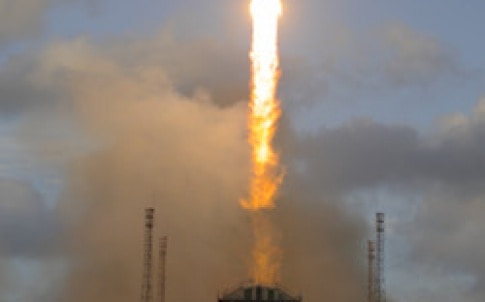 'Sentinel-1A opens a new page in the implementation of Copernicus, the second EU flagship space initiative, after the Galileo positioning system,' Jean-Jacques Dordain, director general of ESA said in a statement. 'The Copernicus programme will provide European citizens with the most ambitious space-based services in the world for environmental and security applications.'
The mission is the first of six dedicated missions that will make up the core of Europe's Copernicus environmental monitoring network, which is designed to provide operational information on the world's land surfaces, oceans and atmosphere to support environmental and security policymaking.
Designed as a two-satellite constellation – Sentinel-1A and -1B – the C‑band radar mission will provide all-weather day-and-night imagery of land and ocean surfaces of Europe, Canada and the Polar regions in near‑real time.
Equipped with a synthetic aperture radar, it will ensure continuity with the European Envisat satellite, which stopped working in 2012 after 10 years of service.
'The launch of the first Sentinel-1 satellite marks a change in philosophy for our Earth observation programmes,' said Volker Liebig, ESA's Director of Earth Observation Programmes. 'In meteorology, satellites have been providing reliable data for weather forecasts for over 35 years.
'With the Copernicus programme, we will now have a similar information source for environmental services as well as for applications in the security and disaster management domain.'
In addition to transmitting data to a number of ground stations around the world for rapid dissemination, Sentinel-1 is also equipped with a laser terminal to transmit data via European Data Relay System satellites in geostationary orbit for continual data delivery.
The satellite's solar panels and antenna are now being deployed in a sequence expected to take around 11 hours.
After the initial 'launch and early orbit phase', the satellite will go into the commissioning phase, when all instruments will be checked and calibrated. The mission is expected to begin operations within three months.
Thales Alenia Space Italy is the prime contractor and Airbus DS Germany is responsible for the C‑band radar. Airbus DS UK supplied the central radar electronics subsystem.
Data from the Sentinel satellites will be provided on a free and open basis. Raw data will be analysed and processed by public and private sector service providers.