Updated April 17, 2014
Efforts to recover missing Malaysian Airlines flight MH370 have gone below the sea surface with the deployment of a towed pinger locator system.
Australian Defence Vessel Ocean Shield has been fitted with a US Navy TPL-25 towed pinger locator, plus a Bluefin-21 Autonomous Underwater Vehicle, to pinpoint signals from the transponder, or pinger, attached to the missing aircraft's black box recorder.
The Australian Maritime Safety Authority has determined a search area of about 217,000 square kilometres, 1,700 kilometres north west of Perth and today's search – with up to 10 military aircraft, four civil jets and nine ships - will focus on three areas in the same vicinity.
The TPL-25 system includes a towed, underwater hydrophone, a tow cable and a shipboard processor suite. In use, it can detect a signal from a distance of approximately one mile with a maximum depth of 20,000 feet.
Once deployed, the hydrophone will be kept approximately 1,000 feet above the sea floor while Ocean Shield executes a search pattern at speeds between 3-5 knots.
According to the US Navy, most black box pingers transmit a 37.5kHz frequency pulse once a second and that TPL-25 can detect any black box transmitting in a frequency between 3.5kHz and 50kHz, at any rate of repetition.
Any signals received from the pinger will then be transmitted via the tow cable to the operator, who then monitors signal strength and records navigation coordinates. This procedure is repeated until the position of the black box is approximated via triangulation.
Once the approximate position is located, the Bluefin-21 AUV can then be deployed to determine the black box's exact location through either its side scan sonar/stills camera or a combination of the two systems. Bluefin can also be used to search the sea floor if a black box signal isn't detected, a situation likely to occur once the pinger's battery runs down.
Once an area has been searched Bluefin is removed from the water in order for collected data to be downloaded and analysed. The US Navy expects the 16 feet-long Bluefin to search approximately 40 square miles per day, depending on environmental conditions.
Flight MH370 took off from Kuala Lumpur International Airport at 0041 on March 8 and disappeared from radar screens about an hour later while over the South China Sea. The aircraft, which was destined for China, was carrying 227 passengers and 12 crew.
On March 24 the Malaysian prime minister announced that data from Inmarsat had been validated by the UK's Air Accidents Investigation Branch to pinpoint the final destination of flight MH370.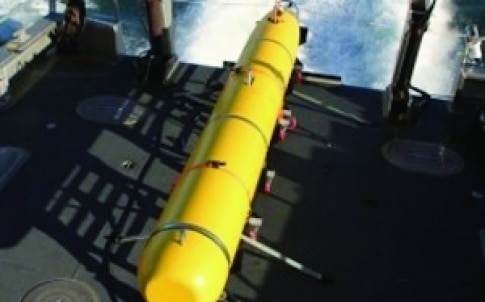 Bluefin facts
Length 16.2'
Diameter 21"
Dry weight 1,650 lb
Depth rating 14,763'
Max speed 4.5kn
Endurance 25 hours
Update:
On the evening of April 16, 2014, a Bluefin-21 AUV completed a full mission in the search area and is currently planning for its next mission. Bluefin-21 has searched approximately 90 square kilometres to date and the data from its latest mission is being analysed.
An oil sample collected by Ocean Shield has arrived in Perth and will be subject to testing and analysis.
Today, April 17, 2014, will see up to ten military aircraft, two civil aircraft and 11 ships assisting with the search for missing Malaysia Airlines flight MH370.
The Australian Maritime Safety Authority has planned a visual search area today totalling approximately 40,349 square kilometres. The centre of the search areas lies approximately 2,170 kilometres north west of Perth.
On April 5, 2014 the crew of Chinese ship Haixun 01 reported the detection of electronic pulse signals in the Indian Ocean, although they could not be verified as coming from flight MH370.
Air Chief Marshal Angus Houston (Ret'd), chief coordinator of the Joint Agency Coordination Centre, said: 'The characteristics reported are consistent with the aircraft black box. A number of white objects were also sighted on the surface about 90 kilometres from the detection area. However, there is no confirmation at this stage that the signals and the objects are related to the missing aircraft.'
The underwater search continues today, April 8, 2014, with ADV Ocean Shield at the northern end of the defined search area, and Chinese ship Haixun 01 and the Royal Navy's HMS Echo at the southern end.