The new Solihull academy will incorporate the philosophy in place at WMG Coventry, where students aged 14 to 19 focus on STEM subjects using a curriculum developed in partnership with the University of Warwick.
The academies, which also teach subjects such as English, Geography and foreign languages, are designed to help the engineers of tomorrow develop the skills required for their future careers. This involves group and project work, where the students get to learn from engineers from locally based companies such as Jaguar Land Rover (JLR), Bosch and Prodrive.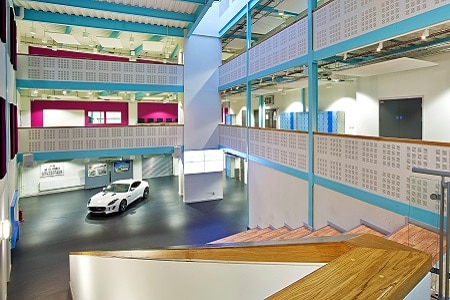 "We do have a slightly different way of delivering our classes, which can be up to 60 students," explained Kate Tague, the current principal at the Coventry WMG Academy who will have an overseeing role across both schools once Solihull opens.
"If it goes over 30 we put two teachers in there, so we do work differently…it allows flexibility in terms of group work, it allows us to do project work with a much bigger area and a much more flexible space than we would do otherwise."
As well as the new academy at Solihull, where construction of the new school has just got underway, the Coventry academy is set to grow from its current 230 students to 470 at the start of the new school year in September. Ms Tague says that students are enrolled from all across the midlands, attracted by the prospect of working with some of the leading engineering companies in the UK.
"Students in year ten have just done a project with JLR about engineering and design, so using engineering design to redesign the light cluster on the back of an F-Type Jag," she said.
"The students presented back to the head of technical skills at JLR for him to see what they've done, so that was a great opportunity to showcase some of the work they've been doing."
Alongside the STEM focus and project work, the academies have some other characteristics that distinguish them from your average school. Before the Coventry academy opened, it was decided in consultation with the students and their parents that those attending the Academy would wear suits. The decision was one primarily driven by the students themselves, according to Ms Tague.
"It was very interesting," she said. "Year ten and year twelve were of one view about what they wanted. The parents were completely split about what they wanted. The students very much wanted to wear a business suit."
The academies also operate a longer working day than usual, starting at 8.30 and running until 16.30. On top of this there are extracurricular activities organised on several evenings each week, including sports and engineering clubs.
"Our longer working day is to accommodate all the learning, but also to try and get people ready for the world of work," explained Ms Tague. "We want students to get used to working a longer day, but to try not to take too much work home with them."
The Solihull academy is holding a taster day for prospective students on Saturday June 20. More information is available on the academy's website.