US auto giant General Motors is making some dramatic moves in response to a growing demand for fuel-efficient vehicles.
Rick Wagoner, GM chairman and CEO, made the announcements this week as part of the GM annual meeting of stockholders.
The biggest news from the company is that it is to halt production at four plants that build pickups, SUVs and medium-duty trucks and "strategically review" the Hummer brand.
Wagoner attributed the move to the change in consumer behaviour in response to higher petrol prices in the US, which in some states have now crossed the $4/gallon mark.
He said that the Oshawa truck assembly facility in Canada, which builds the Chevy Silverado and GMC Sierra, will likely cease production in 2009, while its Moraine, Ohio plant, which builds the Chevy TrailBlazer, GMC Envoy and Saab 9-7x, will end production at the end of the 2010 model run, or sooner.
There's no better news for workers at the Janesville, Wisconsin plant, which will cease production of medium-duty trucks by the end of 2009, and of the Tahoe, Suburban and Yukon ranges in 2010, or sooner, if market demand dictates.
The production of the Chevrolet Kodiak medium-duty truck production plant in Toluca, Mexico will also close down by the end of this year.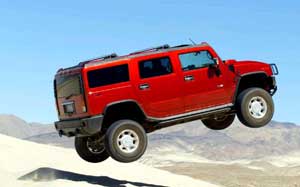 As for the Hummer, Wagoner said that the company is considering all options, from a complete revamp of the product lineup to a partial or complete sale of the brand.
On the positive side, the company has instigated a new compact car program for Chevrolet, will produce a next generation Chevy Aveo, and develop a high efficiency engine module for the US market, as well as fund the production of the Chevy Volt extended-range electric vehicle.
'We intend to show a production version of the Chevy Volt publicly in the very near future, and we remain focused on our target of getting the Volt into Chevrolet showrooms by the end of 2010,' Wagoner said.
Preliminary plans are to produce the Volt at GM's Detroit-Hamtramck Assembly Centre, subject to successful discussions with state and local governments.