The new Jackpine Mine will combine with existing production from the Muskeg River Mine to feed the Scotford Upgrader, which processes the oil sands bitumen (heavy oil) for refined oil products.
Construction for an expansion of the Scotford Upgrader is underway, and will come on-stream in 2011.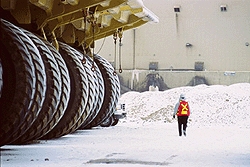 According to Shell, the Jackpine Mine adds capacity of 100,000 barrels of oil equivalent (boe) per day to the existing Muskeg River Mine capacity of 155,000 boe per day. Once the Upgrader expansion is online early next year production will rise towards capacity over 2011.
This AOSP expansion is one of a sequence of major projects that should raise Shell's global oil and gas production by 11 per cent between 2009 and 2012.
Marvin Odum, Shell Upstream Americas director and president of Shell Oil, said : 'Canada's oil sands are an important source of energy in a world with increasing energy needs.
'Shell is committed to developing this resource responsibly and to pursuing opportunities to reduce the impacts of our oil sands operations.
'To reduce the CO2 footprint of our oil sands operations, we are continuing to advance our proposed carbon-capture and storage project, Quest, which could capture and store underground some one million tonnes of CO2 a year from the Scotford Upgrader.'
It's the biggest petroleum reserve on the planet but also the dirtiest. Can technology clean up the oil-sand industry? Click here to read more (subscription required).