A new tidal energy scheme off the coast of Shetland has exported power to the grid for the first time its developers have announced.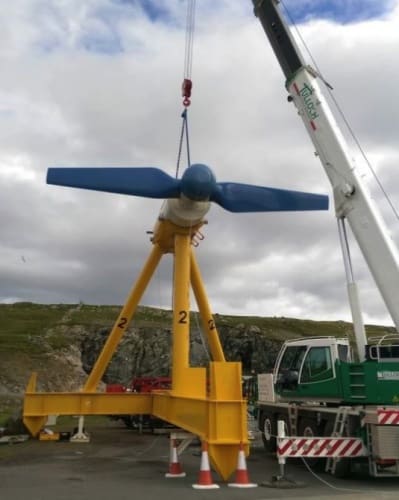 Currently under construction, and expected to be fully complete by 2017 the Shetland Tidal Array will ultimately see five 100kw horizontal access turbines installed on the seabed in the n the Bluemull Sound, the strait between Unst and Yell in Shetland's North Isles.
The project is a collaboration between Belgian green energy specialist ELSA and Scottish Tidal energy firm Nova Innovation which has developed the so-called Nova M100 turbines which form the array. This highly modular subsea system is claimed to be easier to transport and install than competitive technologies.
Following a winter of operations and testing the first of the array's turbines delivered power to the Shetland grid earlier this month (March 2016)
Olivier Bontems, Managing Director of ELSA, said: "Our involvement in the project is driven by two key factors: confidence in the Scottish tidal industry and the generation of clean energy to enable economic growth. It is important for the future of Europe to develop strong partnerships able to successfully generate green power, using the skills and resources that exist across Europe."

The scheme has also been welcomed by WWF Scotland, whose director Lang Banks hailed it as an important step on Scotland's plan to become the EU's first fully renewable electricity nation by 2030.
"It's great to see power exported to the grid from this tidal power project," he said. "With some of the most powerful tides in Europe, Scotland is well placed to lead in developing this promising technology, which will help to cut climate emissions and create skilled, green jobs."
Simon Forrest, managing director of Nova Innovation added: "Tidal energy has the potential to provide nearly 8% of European electricity demand. This milestone is an important step towards achieving this goal."
BESbswyBESbswyBESbswyBESbswyBESbswyBESbswyBESbswyBESbswyBESbswyBESbswyBESbswyBESbswyBESbswyBESbswyBESbswyBESbswyBESbswyBESbswyBESbswyBESbswyBESbswyBESbswyBESbswyBESbswy
As well as investment from Nova and ELSA, the project has also received £1.9m funding from the Scottish Government.