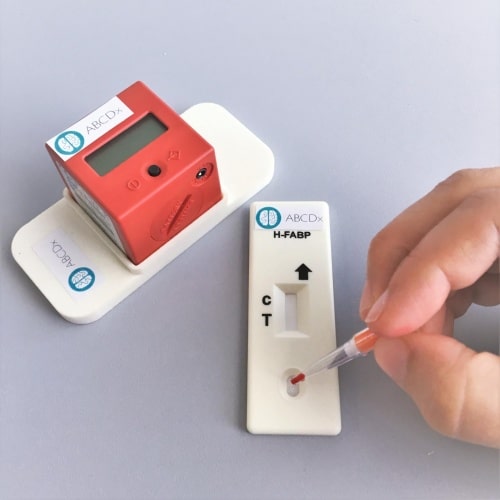 Slight concussions or mild traumatic brain injuries (mTBIs) make up 90 per cent of brain injuries admitted to hospitals but are notoriously difficult to diagnose without a CT scan. Working with medical staff at hospitals in Barcelona, Madrid and Seville, the researchers used proteomic analyses to identify four proteins in the blood that point to brain injury: H-FABP, Interleukin-10, S100B and GFAP. They then developed a device called TBIcheck that can determine within 10 minutes whether the H-FABP levels in a blood sample are higher than 2.5 nanograms per millilitre, indicating a higher chance of concussion and the need for a CT scan. The work is reported in the journal PLOS ONE.
"We have noticed that the H-FABP level alone makes it possible to confirm that there is no risk of trauma in one third of patients admitted after a shock," said lead-researcher Jean-Charles Sanchez, a professor at UNIGE's Biomarkers Centre of the Faculty of Medicine.
"Today, our research shows that the results are even more accurate when we combine H-FABP and GFAP levels. We are currently preparing an even more effective TBIcheck, which will allow 50 per cent of patients to be sent home, but which requires an increase in the sensitivity of the test that receives the blood."
https://www.theengineer.co.uk/solving-one-of-sports-biggest-headaches/
According to Sanchez, he was inspired to create the device by the growing number of concussions in sport and the need for a portable and speedy diagnostic tool to spot them. Other portable solutions for gauging brain injury measure the response of the patient to stimuli, delivered, for example, via the eyes or fingers. By using blood, TBIcheck eliminates the need for the patient to engage with an external stimulus in any way.
"Our idea was to find a way to do a quick examination that would allow, during a boxing or American football match for example, to determine whether the athlete can return to the field or if his condition requires hospitalisation," said Sanchez. "The opposite of the CT Scan, an exam that lasts a long time and cannot be done anywhere."