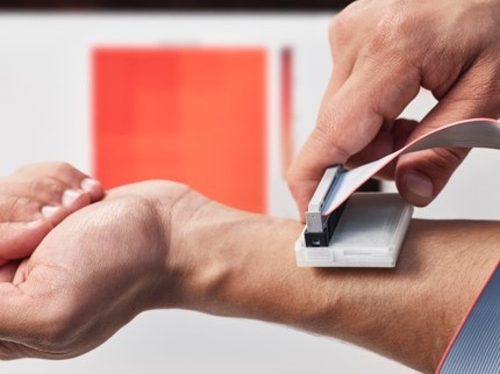 The team of four engineering undergraduates at McMaster University set out to tackle the problem of melanoma diagnosis, which often relies on visual inspections that can be inaccurate. More advanced methods are available but they are time consuming and expensive.
In the UK alone, a tenth of skin cancers are diagnosed in the 'late' stage and it can take a number of weeks to see a specialist. Those who do not go through biopsy procedures run the risk of missed detection.
To counter this, the team's sKan is a cheaper, easy to use diagnostic system that could save lives through early detection, while also saving health services time and money. As international winners of the James Dyson Award, the team will be given £30,000 to develop their idea.
Cancerous cells have a higher metabolic rate than normal cells and release more heat. Following a thermal shock - such as the application of an ice pack - cancerous tissue will regain heat more quickly than the non-cancerous tissue, indicating a likelihood of melanoma.
The sKan device - developed to track these changes in temperature - consists of a transducer, a conditioning circuit, an analogue-to-digital converter and a software processor. The transducer is an array of thermistors placed on the region of interest as it returns to ambient temperature after being cooled. As the temperatures of each thermistor varies, the voltage through the circuit changes, sending a signal through a specific conditioning circuit to filter and amplify the signal before becoming digitised by a microcontroller.
The signal is then sent to a computer through a serial connection to be formatted and fitted to thermistor parametric curves. The results are displayed through a heat map and a temperature time plot, paired with a statement of the findings. The analysis reports the location and range of temperature differences on a temporal metric.
Current non-invasive, thermal imaging techniques for melanoma diagnosis are expensive as they use high-resolution thermal imaging cameras, which cost upwards of £20,000. The anticipated cost of the sKan is less than $1,000.
Dr Raimond Wong, chairman of the Gastrointestinal Oncology Site Group at the Juravinski Cancer Centre in Hamilton, Canada said: "Current methods of detecting whether a lesion is melanoma or not is through the trained eyes of physicians – resulting in patients undergoing unnecessary surgery or late detection of melanoma. The sKan has the potential to be a low cost, easy to use and effective device, that can be afforded and adopted across health services."
The sKan team plan to use the prize money to continue reiterating and refining the product to a level where it will receive FDA approval. From here, they hope to see the device being used across medical practices worldwide.