A London company called Smash and Grab Recycling has developed a novel machine called the Little Smasher that breaks up glass bottles so that they can be easil transported for recycling.
Each Little Smasher is smaller than a standard catering dishwasher and plugs into a normal mains socket. It can take between 15-20 wine and beer bottles simultaneously into its top-loaded hopper and then smashes them into one fifth of their volume in less than six seconds. The compacted bottles are then collected and broken down into smaller parts to be recycled.
As the result of the success of the product, the Cambridge-based Ladbrook Engineering & Manufacturing Company have recently won a substantial contract to manufacture the glass recycling machines for the company.
'Although we have been engineering for over 70 years, this is an exciting new venture into electro-mechanical manufacturing,' said Ladbrook MD Mike Blowers. 'We helped refine the initial design of the Little Smasher and we are now ramping up production volumes.'
Smash and Grab is the brainchild of Chris Waldron and Geoffrey Galitzine, directors of Smash and Grab. Focusing on the licence trade, Smash and Grab install Little Smashers in Public Houses, wine bars, restaurants and hotels and collects the waste glass when required.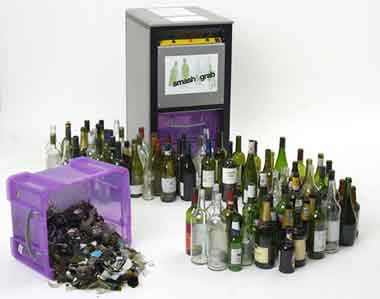 The benefit to pub and restaurant managers is that they can massively reduce the space taken up by empty bottles, and also reduce the cost of waste management.
In keeping with their overall ethos, Smash and Grab use environmentally friendly vehicles to collect the waste glass for recycling. They currently operate in the London area but expect to roll out their services across the UK. They already have partners installing machines in Scotland and the Republic of Ireland in significant numbers.