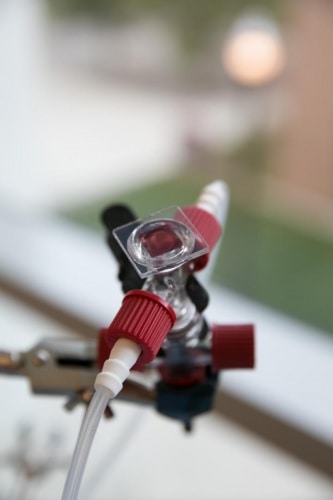 Their work, published in the Journal of the American Chemical Society, reveals a patent-pending battery design that uses a water-based electrolyte – known as an aqueous flow battery – with an integrated solid-sheet solar cell.
"The truly important innovation here is that we've successfully demonstrated aqueous flow inside our solar battery," said Yiying Wu, professor of chemistry and biochemistry at Ohio State University.
"It's also totally compatible with current battery technology, very easy to integrate with existing technology, environmentally friendly and easy to maintain."
The solar panel on the battery is known as a dye-sensitised solar cell, as a red dye is used to tune the wavelength of light that it captures and converts to electrons. Those electrons then supplement the voltage stored in the lithium-anode portion of battery.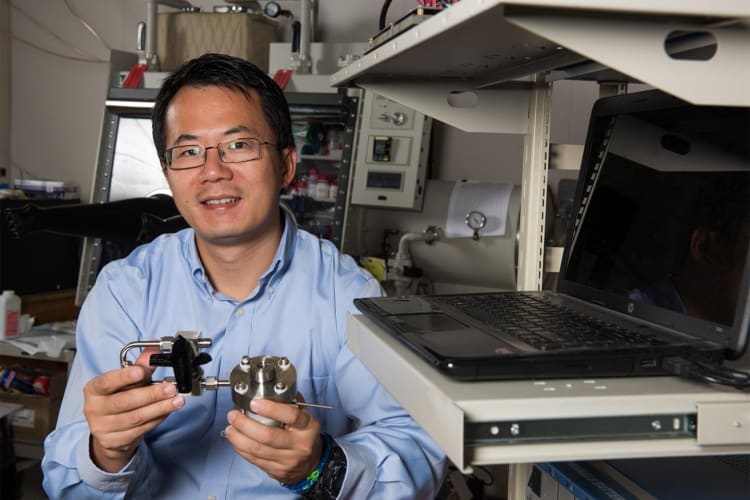 In testing, a traditional lithium-iodine battery required a charge of 3.6 volts in order to deliver a 3.3 volt discharge. The prototype battery - bolstered by the solar panel - required a charge of just 2.9 volts to be able to deliver the same 3.3 volt discharge.
According to the team, widespread research into aqueous flow batteries is currently taking place, as it is hoped that they could one day provide affordable grid-level energy storage, helping to bridge the gap between renewables and the grid.
"This solar flow battery design can potentially be applied for grid-scale solar energy conversion and storage, as well as producing 'electrolyte fuels' that might be used to power future electric vehicles," said Mingzhe Yu, lead author of the paper and a doctoral student at Ohio State.
The researchers are aiming to further increase the efficiency of the battery, boosting the solar cell's contribution beyond the current 20 per cent. According to Wu, the ultimate goal is to create a battery that can be charged entirely via the light of the sun.
"That's our next step, to really achieve a fully solar-chargeable battery," he said.