A portable, solar-powered purification system that could provide people in the developing world with access to clean drinking water is under development in the UK.
Around 20 per cent of the world's population, 1.2 billion people, live under constant threat of not having enough drinking water to survive, according to the United Nations.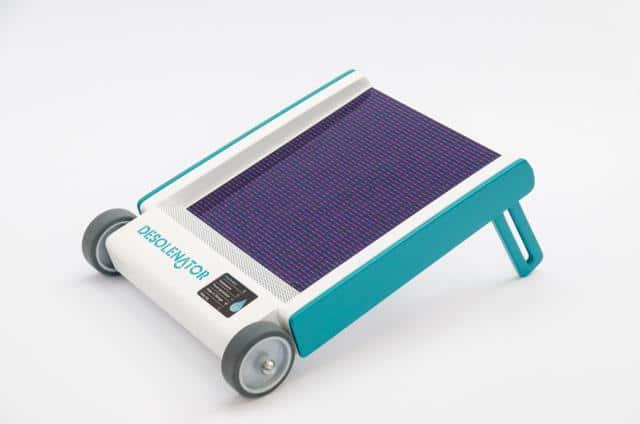 The Desolenator device, which is being developed by a UK-based company of the same name, purifies and desalinates all forms of water, including seawater.
The system recently won two prizes at the Institution of Engineering and Technology's Innovation Awards, winning the sustainability and start-up categories.
The device, which is the size of a large flat-screen television, is equipped with all-terrain wheels for moving around in rugged areas, and can produce around 15 litres of drinking water per day. That is enough for both drinking and cooking, according to Desolenator's CEO William Janssen.
The device is based on a solar panel that directly converts sunlight into electricity, while any excess heat generated by the process is captured and stored thanks to double-glazing covering the panels. This allows the device to harness both the electrical and heat energy produced by sunlight, said Janssen.
A thin layer of contaminated or salt water flows over the photovoltaic surface so that it absorbs the heat from the panels, reaching close to boiling point. In the process, the water cools the panels and so improves their efficiency.
"We then take the water off the collector and put it into a separate boiler, where we use the electrical output of the solar panels to accelerate the boiling of the water using a simple spiral heater," he said.
The vapour is then fed back into the solar collector where it is distilled. "We are able to regain the latent energy in the vapour by heat exchanging it against the water that is warming up in the solar collector, so we have effectively created a circular system," said Janssen.
A small "brine line" then filters out any salt to avoid build-up and keep the device running smoothly.
The device has a lifespan of up to 20 years and requires little maintenance, as it uses no membranes or pre-treatment chemicals.
It is capable of removing 99.9 per cent of contaminants from water, according to the company. This is particularly important in regions where the groundwater reserves have been polluted, or seawater is the only source available.