Imagine windows that not only provide a clear view and illuminate rooms, but also use sunlight to efficiently help power the building they are part of. MIT engineers have formed a startup company that plans to develop a technology to do exactly that.
The MIT solar concentrator involves a mixture of two or more dyes that is essentially painted onto a pane of glass or plastic. The dyes work together to absorb light across a range of wavelengths, which is then re-emitted at a different wavelength and transported across the pane to waiting solar cells at the edges, according to Marc Baldo, an MIT Professor of Electrical Engineering.
In the 1970s, similar solar concentrators were developed by impregnating dyes in plastic. The idea was abandoned because, amongst other things, not enough of the collected light could reach the edges of the concentrator. Much of it was lost en route.
'But by using a mixture of dyes in specific ratios which were applied only to the surface of the glass, we found that we could make the light travel much longer distances,' said Jon Mapel, a researcher working on the idea with Prof Baldo. 'We were able to substantially reduce light transport losses, resulting in a tenfold increase in the amount of power converted by the solar cells.'
Because the system is simple to manufacture, Baldo and his team believe that it could be implemented within three years - even added onto existing solar-panel systems to increase their efficiency by 50 per cent for minimal additional cost.
Mapel, together with fellow MIT graduate students Michael Currie and Timothy Heidel, all from the Department of Electrical Engineering and Computer Science, are starting a company, Covalent Solar, to develop and commercialise the new technology.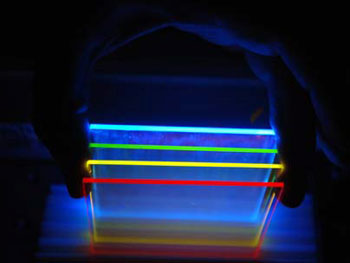 The dyes work together to absorb light across a range of wavelengths, which is then re-emitted at a different wavelength and transported across the pane to waiting solar cells at the edges