Pair Technologies, a start-up company established by Delaware University researchers and a former DuPont scientist, is preparing to commercialise a high-precision detector - a planar-array infrared spectrograph - that can identify biological and chemical agents in solids, liquids and gases present at low levels in less than a second.
John Rabolt, a professor of Materials Science and Engineering at Delaware University, and his students invented and patented the technology in 2001. Rabolt and Bruce Chase, who recently retired from DuPont as a research chemist, founded the company in 2005.
Spectroscopy is a technique for measuring the concentration or amount of a given material by measuring how well that material absorbs or transmits light. But while it would take the current technology - a Fourier Transform Infrared (FT-IR) spectrograph - tens of minutes to chemically identify the petroleum in a major oil spill, for example, Pair Technologies' instrument could provide the molecular fingerprint in one second or less, Rabolt said.
When a sample is placed into the current FT-IR spectrograph for analysis, the instrument divides the infrared light source into two beams that reflect off a fixed and a moving mirror.
Two separate experiments must be run for every analysis - one with the sample and one without. The latter accounts for any 'background interference' from the environment. Additionally, the sample chamber must be purged with nitrogen gas to displace any water vapour.
The Pair Technologies instrument has no moving parts. It relies on a focal-plane array, commonly used in medical imaging, which consists of a cluster of light-sensing pixels at the focal plane of a lens to receive the optically dispersed infrared light. As a result, the Pair Technologies instrument can provide a direct reading in under a second.
Besides environmental monitoring and even a potentially remote way to sample toxins to aid soldiers and hazardous materials (hazmat) responders, the scientists see applications in industry to help maintain and improve manufacturing processes, ensuring, for example, the purity of pharmaceutical drugs or the thickness of paints or polymer coatings.
Delaware University owns the patents for the technology, which are under exclusive licence to Pair Technologies, and has taken a small equity position in the company.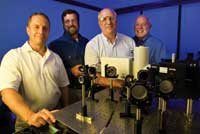 Pair Technologies, a start-up company established by Delaware University researchers and a former DuPont scientist, is preparing to commercialise a high-precision detector - a planar-array infrared spectrograph - that can identify biological and chemical agents in solids, liquids and gases in less than a second