The fact that the UK government has set a target of achieving net-zero carbon emissions by 2050 has been the talk of the environmental engineering world. Multiple UK companies have since committed to achieving net-zero carbon on their projects by 2030.
However, the UK's road to the "green zero" finishing line isn't as smooth as imagined. It's being outrun by other industry behemoths like the USA, Japan, Canada, the Netherlands, and France leaving the UK hanging on eighth.
With the UK once ranking second, the question arises: Whatever went wrong? The truth is as old as hills: starting out isn't as easy as carrying on.
The government's general policies and proposals do meet its great carbon-free goals but fail to meet its obligations under the Climate Change Act. What does this mean exactly?
As an example, with its substantial capabilities and innovative potential, the UK has a promising opportunity to lead on the global stage in hydrogen technology. Experts in the field emphasise the importance of prioritising their recommendations to make this vision a reality.
However, Clare Jackson, CEO of Hydrogen UK, states that important policy gaps are potential reasons why the UK has crawled down the rankings: "Policy delays and lack of clarity from government has slowed the progression of low-carbon hydrogen projects. We are still waiting for the Energy Bill to be passed, which was introduced to Parliament over a year ago. The UK has the capability and innovation to be a global hydrogen leader, and we urge government to prioritise our recommendations to achieve this."
One might wonder why Mrs. Jackson is so concerned. The UK government is in fact progressing in exploring the possibility of making it a requirement for all new domestic boilers in the UK to be "hydrogen-ready" by 2026, in line with its commitment to achieving net-zero emissions by 2050.
A proposal was pulled to establish the UK's first "hydrogen village" in Whitby, Ellesmere Port. The plan, presented by Cheshire West and Chester Council, Cadent, and British Gas, aimed to offer residents the choice of hydrogen or electric alternatives with covered appliance costs and hydrogen subsidies for two years.
With 85% and 6% of UK citizens heating their homes with gas and oil respectively, a hydrogen boiler looks like a way to avoid those nasty CO2 emissions.
Yet this plan faced resistance from locals who feared being part of a pilot project and has since been officially cancelled.
So those pursuing a gas or oil boiler replacement in order to go green will simply get frustrated by the scarcity of hydrogen boiler options available. One can compare boiler quotes to find a carbon-free solution, as demanded within the Net Zero programme, but instead, find a barely existing selection of hydrogen-ready boilers.
In a similar fashion, recent developments in farming have offered a carbon capture option which failed to yield satisfactory results.
Within this experiment, British farmers were paid to bury burnt wood in the ground as a part of this multi-million-funded experiment. This venture sought to aid the UK's pursuit of net-zero carbon ambitions.
Carbon Capture, Utilisation, and Storage (CCUS) is thought to be essential for hard-to-abate industries seeking net-zero emissions, particularly through industrial-point-source capture.
Advocacy for supportive policies and the commitment of over 3,000 businesses to achieve net-zero greenhouse gas emissions by 2050 was supposed to contribute to global climate goals and job retention in high-emission sectors.
Notably, researchers deposited 15 tonnes of waste carbon into British soil, while also exploring the potential of scattering biochar and employing it to create new woodland areas, effectively mitigating and offsetting the country's carbon footprint.
However, these endeavours didn't prove to be "a climate solution" either.
Bruce Robertson, an energy finance analyst at the Institute for Energy Economics and Financial Analysis (IEEFA) concluded in his report:
"Many international bodies and national government are relying on carbon capture in the fossil fuel sector to get to net zero, and it simply won't work. EOR (enhanced oil recovery) itself leads to CO2 emissions both directly and indirectly," the report said. "The direct impact is the emissions from the fuel used to compress and pump CO2 deep into the ground. The indirect impact is the emissions from burning the hydrocarbons that could now have come out without EOR."
So is there any light for this Net Zero tunnel? From the engineering perspective, there are alternative avenues that exist to realise the UK's green policies. One crucial route involves the seamless integration of renewable energy sources, such as solar and wind technologies, into the energy grid's framework.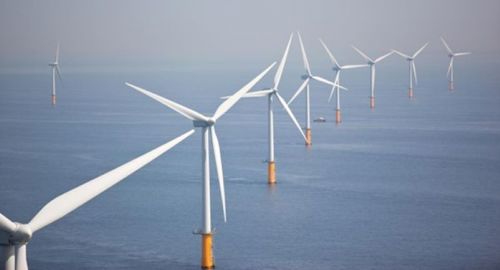 The Kincardine floating offshore wind farm is situated off the southeast coast of Kincardineshire, Scotland, in Aberdeen Bay, making it the largest floating offshore wind farm globally, boasting a 50 MW capacity and featuring the most potent wind turbine ever installed on a floating platform.
This project is being advanced by Kincardine Offshore Wind (KOWL), a wholly-owned subsidiary of Pilot Offshore Renewables (PORL), a joint venture between MacAskill Associates and Renewable Energy Ventures, with an estimated cost of £350m and an anticipated operational lifespan of 25 years.
It stands as a significant model for the future development of the offshore wind industry, showcasing the feasibility of installing high-capacity wind turbines on floating substructures.
Comprising five WindFloat® units hosting 9.5MW turbines, each equipped with three 80-meter blades manufactured at the MHI Vestas Offshore Wind factory on the Isle of Wight and completed at its Fawley facility, formerly an oil-fired power plant. The wind farm's turbines are mounted on WindFloat® units built in Spain, with platform-turbine integration taking place at Rotterdam port. The Kincardine floating offshore wind farm can provide power for nearly 35,000 homes in Scotland and generate over 200GWh of clean electricity annually.
Cobra Concesiones, a Spanish engineering company, states: "Kincardine Offshore Wind Farm was constructed at what was a symbolic time for the decarbonisation of the energy sector in the UK. It's the largest floating offshore wind farm in the world with the most powerful turbines installed on a floating offshore wind platform. Projects like Kincardine inform the next generation of industrial-scale, cost-competitive floating wind projects in the UK and globally."
Such floating projects, anchored to the seabed by mooring lines, are gaining traction as countries strive to meet climate targets, and major companies like Orsted, RWE, Equinor, ScottishPower, and Royal Dutch Shell are competing to build larger floating schemes in Scottish waters. Although floating wind costs have been high in the past, engineers anticipate rapid cost reductions as more projects are deployed, with hopes of achieving "subsidy-free" floating projects by 2029.
The UK government pushing for more floating wind farms like Kincardine as part of its goal to cut carbon emissions by 2050 breathes in some hope and confidence in the country's ability to harness innovative offshore wind solutions to finally get its ambitious climate objectives off the ground.
Furthermore, the intermittent nature of renewable energy sources necessitates the application of energy storage technologies, including batteries and pumped hydro storage, to ensure a steady and reliable energy supply.
The modernisation of the energy grid is another indispensable facet of this transformation, involving comprehensive upgrades to enhance its efficiency and flexibility.
This evolution encompasses the development of intelligent grids, equipped to monitor and manage energy consumption in real-time. Here, engineers excel in the creation of smart grid systems capable of optimising energy usage and reducing wastage.
To advance the UK government's net-zero and energy security objectives, there's a pressing need for a comprehensive financing strategy that outlines how public expenditure, policies, and regulations will stimulate private investment.
Simultaneously, energy efficiency measures, such as bolstering building insulation and adopting energy-efficient lighting, emerge as crucial contributors to reducing energy consumption and carbon emissions. Engineers shine in their ability to design and develop energy-efficient systems and technologies, thereby curtailing energy wastage.
In an innovation to look upon, researchers at the University of California San Diego have pioneered a sustainable and eco-friendly solution for cleansing pollutants from water.
This groundbreaking material comprises a 3D-printed structure crafted from a seaweed-based polymer, coupled with genetically engineered bacteria proficient in producing enzymes that convert organic pollutants into harmless molecules.
Furthermore, these bacteria possess the unique trait of self-destruction in the presence of theophylline, a molecule commonly found in tea and chocolate, offering an elegant means of disposal after fulfilling their task.
This being said, the crucial role of engineers and environmental engineering specialists in realising net-zero carbon goals cannot be overstated.
Through the adept integration of renewable energy sources, the development of cutting-edge energy storage technologies, the modernisation of the energy grid, the promotion of energy efficiency measures, and the exploration of pioneering advancements, environmental engineers lead the fight for a sustainable future.
To conclude, despite the positive momentum seen in net-zero commitments and corporate pledges to reduce and counter carbon emissions, there remains a pressing need for robust and comprehensive strategies to concretely attain these commendable goals.
Environmental engineers, in their turn, diligently strive to help achieve net-zero goals, contributing to corporate initiatives aimed at reducing and offsetting carbon emissions.