An innovative new spout developed by the University of Vermont's Proctor Maple Research Center, with funding secured by Senator Patrick Leahy of Vermont, will have a dramatic impact on maple syrup production, increasing sap yields by 50 to 90 per cent per tree.
Progressive Plastics in Williamstown, Vermont began commercial production of the check valve spout this month for Leader Evaporator of Swanton, Vermont, which licensed the technology from the university and will market and sell it.
Although Leader has not yet listed the spout in its catalogue or on its website, the company has already received one million advance orders. Leader is projecting sales of three million units this maple season, making the spout its number one selling product.
The check valve technology itself was developed by Dr Timothy Perkins, director of the Proctor Maple Research Center. It employs a valve - a small ball that rolls back and forth in a chamber within the spout - to block the flow back into the tree of sap containing bacteria.
All tapped maple trees pull sap back into their tap holes, as they try to balance the negative pressure established both by natural process and by vacuum systems, which are pervasive in the industry. Bacterial backflow in turn causes the tree's natural defence system to wall off the contaminated area of the tap hole, essentially plugging it and ending a sugar-maker's season. Such walling off typically occurs late in the season.
By allowing the tree's sap to continue to flow, the new spout will extend the sugar-making season by one and a half to two and a half weeks, according to testing conducted by the Proctor Maple Research Center and confirmed by Leader's field testing. The season is typically four weeks long.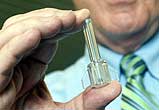 'We're very excited about the new fitting. It's going to add as much to syrup and sap production as vacuum tubing did. I'm confident that this is going to be the thing to use in the future,' said Gary Gaudette, president of Leader Evaporator.