According to the Scottish government, the company has identified two potential sites, one off the coast of Lewis and one off Aberdeenshire, that could be suitable for a pilot park, testing the concept of the Hywind floating turbines further.

It is estimated that the turbines can be placed at depths between 120m and 700m.
Statoil has already constructed a full-scale prototype Hywind unit, anchored 10km off the south-west coast of Norway. The floating wind turbine, which is being trialled over a two-year period, has been performing 'beyond expectations' and has delivered power to the grid since September 2009.
The floating structure weighs 5,300 tons and is 165m tall; with 65m above the sea surface. The 13km of power and communications cabling attached to the structure adds to its weight.
The full-scale prototype turbine was manufactured by Siemens and its floater was built by Technip. Nexans Norway laid the submarine power line.
Trelleborg Offshore provided a 'syntactic foam buoyancy' technology for supporting the configuration of the wind turbine's power cables.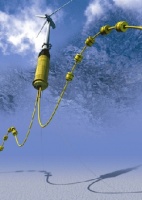 Gary Howland, renewables sales manager for Trelleborg Offshore, said that the technology was originally developed for the deep-water support of umbilicals and risers in the oil and gas industry.
'Just as the oil and gas industry has moved from fixed structures to floating platforms, one solution for deep-water wind power is a floating wind turbine, such as Hywind,' he told The Engineer.
Howland added that Trelleborg Offshore, like Statoil, has years of experience with the oil and gas industry and this will prepare the company for the engineering challenges presented by offshore wind power generation.
He said: '[Our experience helps to] reduce project risk and make development of the industry far quicker and less costly.'
Wind energy generators are racing to develop turbines that exploit the potential of the strong winds far out to sea. Click here to read more (subscription required).