The Artificial Muscle-Operated (AMO) arm, which was developed by third-year student Thiago Caires and second-year student Michal Prywata, is claimed to give amputees more range of movement than other prosthetic arms.
To use the arm, individuals wear a headset that senses a signal from the brain, which is wirelessly sent to a computer in the arm. The computer then compares the signal to others in a database and once the correct match is found, the appropriate control signals are sent to pneumatic 'artificial muscles', which create the desired movement.
Simulating the expansion and contraction of real muscles, the system makes use of compressed air from a small, refillable tank in a user's pocket.
The researchers claim that the arm will cost one-quarter of other functional prosthetic arms, depending on the complexity of the prosthesis.
They also say that while traditional prosthetics may require weeks of learning and training, the AMO arm can be mastered in minutes.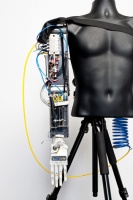 'In just 10 minutes of practising, a person can pick up the mind-control aspect of the technology,' said Prywata. Moreover, he said, the AMO arm will not only benefit amputees, but could also be used as an assistive device on wheelchairs, enabling users to reach things with greater ease.
Caires and Prywata are now working to enable each finger on the AMO arm to be moved individually. In the future, the pair would also like the AMO arm to be capable of sensing different materials and adjust the force used proportionately. They have already developed an innovative concept for capacitive sensing, which detects different materials prior to contact.
The students also have plans to develop an adaptive system — one that will progressively 'learn' from a user's movements and carry them out seamlessly.
Although they are still students, Prywata and Caires have formed their own company — Bionik Laboratories — and are currently seeking patents for the AMO arm.