An unmanned submersible able to operate on its own in demanding environments has helped scientists pinpoint optimal locations for two observation sites for a seafloor laboratory being planned off the coasts of Washington and Oregon.
Successful selection of the two sites is a crucial step in developing a sensor network above and below the seafloor on the Juan de Fuca Plate, according to John Delaney, University of Washingtonoceanographer and chief scientist.
The network, which will be connected to land by underwater cables from locations near Warrenton and Pacific City, Oregon, will help unlock secrets about the ocean's ability to absorb greenhouse gases and help scientists learn how seafloor stresses cause earthquakes and tsunamis.
The researchers plan to lay cables from two places on land that will extend to five primary nodes. Like underwater extension cords, the nodes will supply power to - and communicate with - instruments, robots and smaller secondary nodes.
Choosing the right sites involved mapping and imaging in remarkable detail using sonar instruments, a towed camera and the so-called Sentry submersible.
Sentry produces maps precise to within 1m as it glides about 250ft above the seafloor. Operators program the vehicle with directions of the area to map but the vehicle is on its own when it comes to manoeuvring up and down cliffs, basins and other terrain that it encounters, all the while keeping a consistent distance from the bottom.
The one-of-a-kind autonomous underwater vehicle - built by Woods Hole Oceanographic Institution - made six dives during an expedition in July. It was the first time the vehicle had been used during an actual oceanographic research cruise.
Sentry surveyed about 53km2 as it traced parallel lines like a lawn mower making a pattern across a yard.
The work made it possible to finalise locations for the two critical sites. One is near an area 50 miles off Newport, Oregon, where scientists would like to learn more about the icy methane that collects on or below the seafloor where the Juan de Fuca plate dives beneath North America.
'Our plan is to build the infrastructure that will allow entire generations of scientists to study these deposits firsthand,' said Delaney.
The other site is about 300 miles west of Cannon Beach, Oregon, and in a decidedly different environment. That one is on top of Axial Seamount, the largest active submarine volcano east of Hawaii and north of Baja California, Mexico.
'The key to choosing these locations is to find sites that are protected but within reach of really interesting processes that we're trying to investigate,' said Deborah Kelley, University of Washington oceanographer and co-chief scientist on the expedition.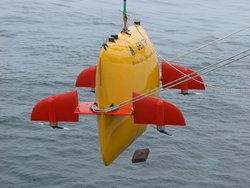 Scientists have finalised the locations of two observatory sites, or nodes, for a seafloor laboratory being planned off the coasts of Washington and Oregon. One will give them the chance to learn more about icy, energy-rich methane deposits and the life found there, while the other will allow them to study volcanism and hydrothermal venting. Companion work in Canada is planned further north