South Windsor, Connecticut-based UTC Power has signed a contract with Spanish shipbuilder Navantia to supply a 300kW proton exchange membrane (PEM) fuel cell power module for use in the Spanish Navy's S-80 submarine.
Terms of the agreement with Navantia were not disclosed, but UTC Power said the contract was one of the largest single contracts it had ever received.
The companies announced in July of 2006 that UTC Power would design a fuel cell to operate on reformed ethanol and pure oxygen. The design phase has been successfully completed, and the program will now move on to actual hardware development, which also includes the first operational fuel cell.
Following successful completion of the development phase, Navantia and the Spanish Navy are expected to determine whether additional units will be produced.
The Spanish Navy will install the new fuel cell power modules on its S-80 model, 2,500-ton submarines as part of the air-independent propulsion system. Because the propulsion system does not need air, the S-80 submarine – designed for coastal protection – will be capable of staying submerged for longer periods than a diesel electric submarine.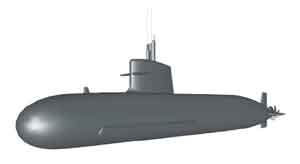 Navantia, a wide designer and supplier of military and civil vessels, is based in Madrid with offices and shipyards throughout Spain.