Nexans has been awarded an €11m (£9.7m) contract by BP Norgeto supply a direct electrical heating (DEH) system for the Skarv field subsea production pipeline in the Norwegian Sea.
The DEH system was developed through a partnership of Norwegian operators and suppliers, and Nexans is the only supplier so far to have delivered systems based on the technology.
It works by sending an electrical alternating current from a Floating Production Storage and Offloading (FPSO) vessel through a dynamic riser cable with two power cores to the seabed and into the production pipeline.
One insulated cable is connected directly to the pipe in the near end, while the other is laid along the pipeline in the direction of the template, or far end, where it is connected to the pipe.
Alternating current is supplied through the cable and returned partly via the pipe walls and partly through the seawater. This causes heat to be generated in the steel pipe, which ensures that the well flow is maintained above the critical temperature for hydrate formation.
StatoilHydrois a major user of this technology and the Åsgard, Huldra, Kristin, Norne, Tyrihans, Alve and Morvin fields all now have Nexans DEH systems installed.
For BP Norge, a 12in diameter production pipeline will be installed from one of the production wells at the field to the FPSO vessel at Skarv, a distance of approximately 13km. At low production and shutdown times, the DEH system on it will be used to prevent blockage of the pipe.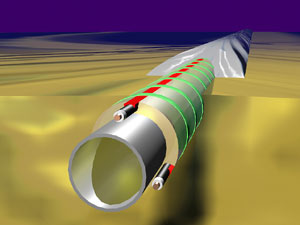 Nexans will supply all cables and dedicated subsea equipment for the DEH system. The cables will be manufactured at Nexans' Halden factory in Norway and should be delivered for installation in the spring of 2010.
The Skarv field itself was discovered in 1998, and it has taken 10 years to mature the field to its current stage. It is located in the Norwegian Sea, around 200km west of Sandnessjøen, between the Norne field (35km to the north) and Heidrun (45km to the south) in water depths between 350m and 450m.