SolidWorks 3D CAD and COSMOSWorks analysis software have helped packaging company ORBIS, formerly Linpac Materials Handling, produce a super-sized container that stretched plastic design to its limits.
Design engineer Todd Turner estimates SolidWorks and COSMOS software reduced retooling costs by 50% for its new SmartVault container that Linpac custom designed for Smart Move (MVE), a Denver CO-based asset management company.
Engineers used COSMOSWorks to analyse the design for weaknesses and SolidWorks to modify the design, which eliminated late-stage changes that previously forced the company to alter production lines after they were built.
'The software also cut anywhere from six months to a year from the development cycle,' Turner said, 'and enabled us to manufacture the SmartVault on an existing injection press instead of having to invest in a new press.
'We had to get the design under a certain weight so it could be moulded on our existing presses and keep material costs down,' Turner added. 'The design had to be very precise to fit on the press and deliver the needed strength.'
The result is a packing case light enough for economical common carrier shipping, yet large and strong enough for Smart Move to ship household and commercial goods.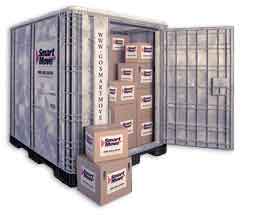 'Though outwardly a simple plastic box, the SmartVault was just as complicated to design as an aircraft wing, if not more,' Turner said, 'because of plastic's physical properties.'
'The SmartVault is a very new design for a plastic container. Our container components are very large for plastic structures, and we couldn't have them very thick or add too many steel support bars because we had to minimise weight,' Turner added.
'To create the necessary support, we needed a very complex mesh structure comprised of thin walls. That created a lot of deflection in the design, and we had to anticipate where excessive deflection would cause a failure. We fed the material properties of the structural foam we used into COSMOSWorks, and were able to analyse the foam's behaviour in different configurations.'