A subsidiary of global power company, AES Corporation, is to build Bulgaria's largest wind farm.
AES Geo Energy will construct and operate the 156MW St Nikolas wind farm in Kavarna.
Paul Hanrahan, president and chief executive of AES, said: 'The project will be the largest wind farm in Bulgaria, and demonstrates our commitment to provide sustainable and affordable power.'
Marty Crotty, president of AES Wind Generation, added: 'The project will significantly increase Bulgaria's wind generation capacity, and marks AES Wind's fifth operational wind farm in Europe.'
The wind farm will consist of 52 Vestas turbines and will be owned and operated by AES Geo Energy, which has signed a 12-year Power Purchase Agreement (PPA) with the National Electricity Company.
The total project cost is €270m (£243m), of which €198m was financed through non-recourse financing - a loan where the lender is only entitled to repayment from the profits of the project the loan is funding, not from other assets.
The non-recourse financing has been secured in a consortium of lenders, led by the European Bank for Reconstruction and Development (EBRD), International Finance Corporation (IFC) and UniCredit Markets and Investment Banking for a 15-year term.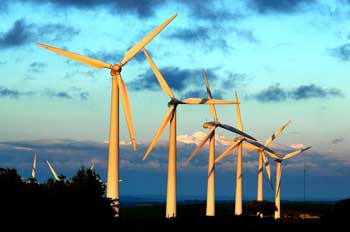 AES has more than 1,000MW of wind capacity in operation globally.
In Bulgaria, AES is currently building the Maritza East I Power Project, the largest greenfield power sector investment to date in south-eastern Europe.