Led by Tidal Lagoon Power Ltd, the project is expected to generate around 500GWh of electricity every year for 120 years, helping to save more than 236,000 tonnes of CO2 annually.
Furthermore, the project establishes a scalable blueprint for a total of six UK lagoons that could between them provide eight per cent of the UK's electricity.
The tidal power station is scheduled to reach financial close in the summer with construction scheduled to begin immediately after, creating almost 2,000 jobs. 
InfraRed, the a global investment manager focused on infrastructure and real estate, will make the investment from existing funds. 
In a statement, Werner von Guionneau, chief executive, InfraRed Capital Partners, said: 'We are proud to be playing a key role in securing the future of this world-leading renewable energy project. 
'The power station is unique in that it not only leverages the estuary's second highest tidal range in the world but it will also make a material contribution towards both the local economy in South Wales and the long term stability of sustainable energy supply in the UK.'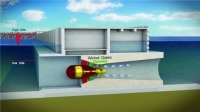 Tidal lagoons use tidal range technology that relies on the gravity-driven flow of water from one level to another to power a generator, rather than the currents that driven tidal stream turbines.
The Swansea Bay plant would be the first powered by both incoming and outgoing tides. Water would flow out of the lagoon as the level of the water outside dropped and back in once the tidal level rose again. Click here to read more.