A re-design of the conventional needle and syringe has earned a Northumbria student a national award.
Christopher Holden, who is in his final year of a Design for Industry degree course at Northumbria University, won a prize of £3,000 and a three-month internship at NCR Financial Solutions after winning the contest run by the RSA (Royal Society for the encouragement of Arts, Manufactures and Commerce).
His design - named the MediDome - seeks to eliminate needle stick injuries, cross–contamination of blood-borne viruses such as HIV and hepatitis, as well as simplifying and speeding up mass immunisations.
To use the MediDome, a sterile cover is removed to expose an anaesthetic, antiseptic adhesive which sticks to the patient's skin before the needle is injected.
The MediDome's adhesive cover also acts as a security device as it changes colour if the product has been ruptured or tampered with.
The mechanism is designed for single use only, making it impossible for syringes to be shared and blood-borne diseases to be passed on.
The device uses a universal colour coding drug system – the ring is a different colour depending on which drug is in the pre-filled reservoir - and has a large label holding the name of the drug and dosage.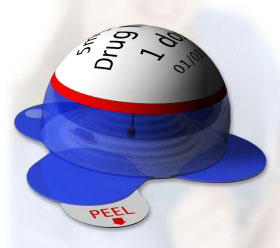 'I see the MediDome being of real benefit in the military and at mass immunisations such as in developing nations or in times of natural disaster, said Holden.
'The unique aesthetics of the device also helps to reduce the fear of needles and injections,' he added.
Northumbria University has filed a patent application and is currently seeking external funding to develop and commercialise the device.
To view Holden's online portfolio, visit www.coroflot.com/cholden