Taranis, an unmanned aerial combat vehicle designed and built by a team comprising BAE Systems, Qinetiq, GE Aviation, Rolls-Royce, and DE&S, was flown for the first time at an undisclosed test range on Saturday 10th August 2013.
Made possible with joint funding worth £185m from industry and the Ministry of Defence, the stealthy unmanned combat system has been designed to demonstrate the feasibility of a long-range unmanned aircraft capable of precision strikes, plus sustained surveillance, marking targets, and intelligence gathering.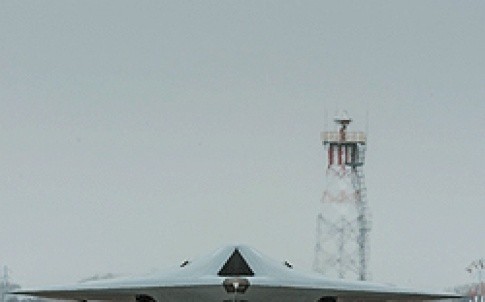 'This is the most advanced air system yet conceived, designed and built in the UK and its vitally important for the future of both UK air defence and the UK defence industry,' said Philip Dunne, minister for Defence Equipment, Support and Technology.
Piloted by BAE Systems' test pilot Bob Fraser, Taranis is said to have made a perfect take-off, rotation, 'climb-out' and landing on its first 15 minute flight. According to BAE Systems, a number of flights took place in 2013, of up to one hour in duration and at a variety of altitudes and speeds.
News that Taranis had made its initial flights was announced today at the Royal Academy of Engineering in London.
Speaking at the event, Philip Dunne, minister for Defence Equipment, Support and Technology said: 'We're already thinking about what technology developments might follow [the 5th generation Joint Strike Fighter]
'Those aircraft may need to operate in contested airspace behind enemy lines. They may be unmanned but the technology we've gained on the Taranis technology demonstrator keeps the UK in a strong position as we tackle that challenge, particularly in developing technologies such as low observability.
'The evidence gained from the flights so far is already helping to inform future combat aircraft capability.'
Taranis was built with the help of 250 UK companies and will help inform future decisions on the future mix of manned and unmanned fast jet aircraft in theatre.
BAE Systems said in a statement that initial ground testing commenced in 2010 at its facility in Warton, followed by a programme of pre-first flight milestones including unmanned pilot training, radar cross section measurements, ground station system integration and taxi trials.
The aircraft and its ground station were then shipped from Warton to the test-range before being re-assembled and being subject to systems and diagnostics checks. Taranis then made a number of high speed taxi tests in July before its maiden flight in August 2013.