Meet the 'Transition,' a new light sport aircraft developed by MIT aeronautical engineers at US based Terrafugia.
The Transition was intended to be designed as a 'light sport' aircraft, the smallest kind of private aeroplane under FAA classification, which means it cannot exceed a maximum weight of 1,320lb (about 600kg).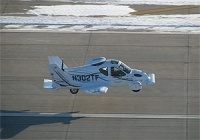 Gersh noted the car might also be popular with those who have always longed to fly. A light sport aircraft licence requires only 20 hours' flying time, which is much less than what is required to fly larger aeroplanes.
The obvious 'wow factor' of a flying car, he said, will also mean consumers who would buy high-end aeroplanes and cars might be clamouring to get behind the wheel of a Transition. Gersh confirmed the company has already taken 70 orders for the car.
While the Transition is being readied to meet American vehicle and aircraft standards, a spokesman from the UK's Civil Aviation Authority said such a flying car could be approved for use in the UK if it met the EU requirement for aircraft design set by the European Aviation Safety Agency based in Cologne.
However the popularity for such a car might be limited in the UK, he said, because it lacks the thousands of airports and great distances in the US. He also added that he didn't see the Transition bringing forward a Jetsons-like flying car vision of the future. 'If you think of the M25 in the air, how is it going to work?' he said.
Gersh agreed: he in no way saw the Transition in any way resembling George Jetson's ride.
'The distinction between the Jetsons and this is you can't take off at the airport and have it fold up into your briefcase,' he said. 'This is an aeroplane. It's not meant to replace your car but if you have an aeroplane it could replace it because of the added functionality. You don't need a hanger, you don't need a rental car and you are bringing your ground transportation with you.
'If you want to bring it to whatever the UK equivalent of Home Depot is,' which for British readers is B&Q, 'that is probably not a good choice because it is a $200,000 vehicle.'