Produced in partnership with technical recruitment consultancy CBSbutler, the survey - now in its fifth year - attracted responses from 1,568 engineers from multiple sectors across the UK.
Whilst our 2018 survey pointed to stagnation in engineering pay, this year's report paints an altogether more positive picture, with the average salary increasing year on year by seven per cent to £51,253.
Average salaries have increased in all of the separate sectors covered by the survey, however the renewables and nuclear sectors have seen the most marked uplift (£58,695) and have taken the top spot for the first time in the survey's history, an indication that engineers working in these sectors are becoming increasingly critical to the UK economy.
This year's survey also points to increased levels of job satisfaction on earlier years, with a ten per cent increase in respondents content with pay, and an eight per cent increase in those saying they are happy in their roles.
These findings are perhaps surprising given the growing concerns about Brexit and increasingly vocal warnings from some of the UK's biggest engineering employers. However, they do tally with anecdotal evidence that UK manufacturers are adopting an increasingly bullish approach to current conditions.
Nevertheless, there are still several points of concern, not least in the area of gender diversity, with female engineers accounting for just 7.4 per cent of the response group. These female respondents are paid on average £9k less than their male colleagues, which represents a narrowing of the £13k gender pay gap reported in last year's survey.
As in last year's survey, women at higher levels of seniority are paid less than their male counterparts.  However, women at junior level now earn equivalent average salaries (a marked narrowing of the 4k gap reported in last year's survey and a sign, perhaps, that action is being taken to narrow the gender pay gap.)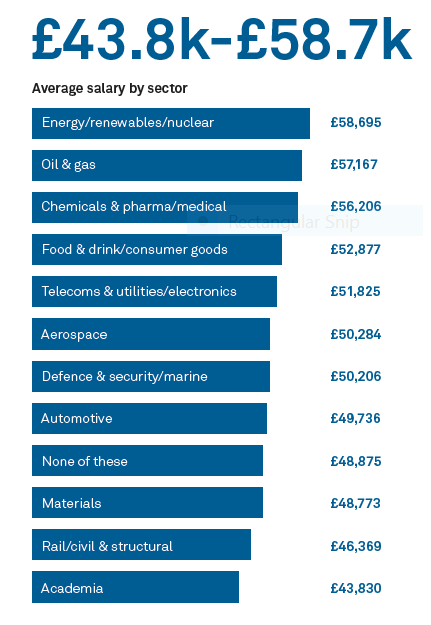 Despite earning more, respondents are increasingly concerned about the potential impact of Brexit with 44 per cent concerned about its effect on their job security (up from a third of respondents in our 2018 survey).
We will be analysing the findings of this year's survey in greater detail over the coming weeks and months.
The Engineer salary survey 2019 - Key stats
1,568 responses

Average age: 47.5

Average salary: £51,253 up from £47,896  in 2018

Highest paying sector – Energy, Renewables & Nuclear (£58,695) up from £52,653 in 2018 and overtaking Oil & Gas (£57,167)

Female respondents are paid on average £9k less than their male colleagues

66.5 per cent of respondents have seen their salary increase in the past 12 months

42 per cent of respondents are considering a change of job