If you thought that the production of hydrogen powered vehicles was some way off, it's time to think again. Because this month, Japanese auto behemoth Honda began producing its new FCX Clarity fuel cell vehicle in earnest.
Unfortunately, due to the lack of a global hydrogen refuelling infrastructure, only a limited number of these groundbreaking vehicles will be leased during the summer, and then only to those who reside in the Torrance, Santa Monica and Irvine areas of Southern California.
That's because the company wants to ensure that FCX Clarity drivers will be able to take their vehicles in for servicing at participating dealers and have convenient access to refuelling stations.
Although Honda only plans to make just a few dozen cars for the Japanese and US markets this year, the good news is that it will be ramping production to about 200 units per year within three years.
The FCX Clarity itself is produced at the Honda Automobile New Model Center in Japan, where the company established a dedicated fuel cell vehicle assembly line that includes processes unique to building a fuel cell vehicle, such as the installation of the fuel cell and the hydrogen tank.
In addition to the 100kW Proton Exchange Membrane Fuel Cell (PEMFC) fuel cell, the car also sports a lithium-ion battery pack that is used as a supplemental power source, capturing lost energy during deceleration and braking.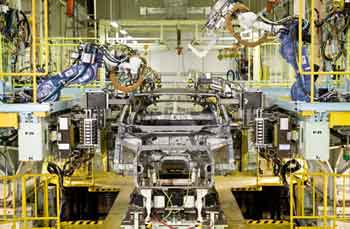 For those interested in taking a look at the car in question, it will be exhibited at the Environmental Showcase in the G8 Hokkaido Toyako Summit which will begin on July 7. For those unable to attend, a full FCX Clarity specification can be found here.