Cameron Johnstone and colleagues from Strathclyde University's Department of Mechanical Engineering's Energy Systems Research Unit received the Technology Award for their contra-rotating marine current turbine — a device that makes it possible to harness energy anywhere from the 8-500m depths of the sea, including where the current is at its strongest.
Unlike conventional turbines, the Strathclyde machine has two rotors, turning in opposite directions, which make it very stable and removes the need for fixed foundations. Instead, it can be connected to the sea bed by a cable that moves with the flow of the tide.
Johnstone said: 'We are delighted to receive this award, particularly in the company of excellent teams from around the UK. The second-generation turbine marks a new threshold in tidal-energy technology, and could allow us to extract more energy from the sea than ever before.'
Current turbines look a bit like underwater windmills — they have to rest on the sea bottom, which means it is difficult to secure them in deep water or where the current is at its strongest.
Johnstone added: 'The new technology removes the need for expensive piling, and allows us to harness the full power of the tide. It makes marine renewable energy a much more commercially attractive option.'
The Strathclyde team successfully tested a scaled prototype of the technology in Islay with funding support from Scottish Enterprise's Proof of Concept scheme.
They are now in talks with industrial partners and plan to create a larger, 8m version of the technology that could be in commercial use in a matter of months.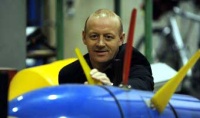 Cameron Johnstone (pictured) and colleagues from the Department of Mechanical Engineering's Energy Systems Research Unit, received the Technology Award for their contra-rotating marine current turbine