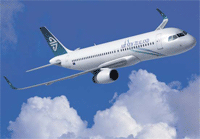 Airbus claims that shark-fin-inspired wing-tip devices on its A320 aircraft will help them use less fuel, carry more weight, climb higher at a faster rate and produce less emissions and noise.
The 'Sharklet' large wing-tip devices will be fitted on 14 A320s built for Air New Zealand by the end of 2012. It is hoped that other A320 models will be built and fitted with the devices by 2013.
Airbus claims that the Sharklets will reduce fuel burn by 3.5 per cent and annually reduce CO2 emissions by 700 tonnes, compared to current aircraft.
Alan Pardoe, head of product marketing for A320, explained that the Sharklets act like an extension of the wing in the vertical plane.
'In general aerodynamic terms, the greater the wing span the higher the aspect ratio and the greater the aerodynamic efficiency,' he said, adding that the Sharklets reduce drag by minimising the vortex at the end of the wing.
Pardoe said that these features will also improve take-off performance, leading to less noise pollution for residents living around the airport, as the aircraft will fly higher over their communities.
He added that the Sharklets are expected to increase payload by 500kg - meaning an aircraft will climb higher for the same weight. Airbus believes that this is a critical feature for aeroplanes that take off from runways surrounded by obstacles such as trees, church spires, or even mountains.
"Sharklets will annually reduce CO2 emissions by 700 tonnes"
'We see this as an issue with critical cases when you have an engine fail at the worse possible moment in take-off,' said Pardoe. 'You want to be way above all these obstacles.'
Airbus believes that the Sharklets are superior to anything comparable on the market.
Pardoe said that the industry has moved along in the last 10 years in terms of the ability to analyse the aerodynamics of an aircraft. The Airbus design reflects this, he added.
Airbus has made advances in computational-fluid-dynamics simulation tools and wing-tunnel and flight testing over the last several years through its in-house research and development programmes.