According to Toyota spokesman Nik Pearson, the Japanese motor company has already introduced the use of recycled copper into 15 different vehicle lines, including the Prius and in 2013, 200,000 vehicles used recycled copper in production.
The research programme, which began in 2010 with project partners Yazaki and Toyota Tsusho, aimed to define the quality requirements for pre-processing vehicles that have reached the end of their useful life.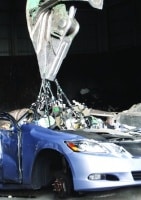 According to Toyota, it hadn't previously been possible to recycle harnesses for their copper content using mechanical methods but in 2011 the company devised a sorting method that safeguards the metal from contamination by minute impurities during the dismantling process.
Trials were launched at its Honsha plant in 2013, and retrieved copper was successfully reintroduced into the vehicle production process.
Pearson told The Engineer via email that with mechanical sorting, the wiring harness coverings are removed by a shredder.
He said: 'Aluminium and other light metals are then removed by a weight-based method called specific-gravity sorting, iron is removed magnetically, and finally, small contaminants are identified by colour.
'Overall, this does not use much electricity compared to melting electrolysis in a smelting furnace.
'Mechanical sorting is made possible by creating systems for achieving high levels of purity without refining, and by determining and extensively reviewing the sorting sequence, required facilities and machinery, and conditions.
'Previously, there were no sorting technologies to prevent the introduction of small contaminants. We are now able to produce high-purity copper by carefully fine-tuning and combining sorting methods.'
Furthermore, this process is applicable to all cars that are submitted for the official end of life vehicle (ELV) process and copper retrieved by the process is of 99.96 per cent purity. Toyota estimates as much as 1,000 tonnes of copper can be produced annually using the new process.
Pearson added that the process is currently limited to cars but believes it could be adapted for a range of vehicle wire harnesses.
A 2013 report from Japan Oil, Gas and Metals National Corporation (JOGMEC), suggests that at current levels, the global mineable supply will be exhausted in around 40 years.