The new material, which is to be commercialised by spin-out company, Bodle Technologies, is based on research carried out at the University's Department of Materials into the electrical and optical properties of phase change materials (materials that can change from an amorphous to a crystalline state).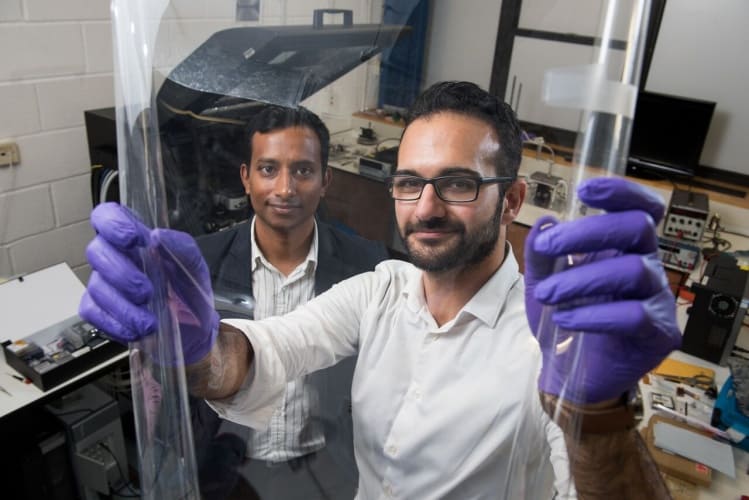 Led by Prof Harish Bhaskaran and postdoctoral researcher Peiman Hosseini, the group, which reported its initial findings in Nature last year, found that by sandwiching a seven nanometre thick layer of a phase change material (GST) between two layers of a transparent electrode they could use a tiny current to 'draw' images within the sandwich 'stack'.
Initially still images were created using an atomic force microscope but the team went on to demonstrate that such tiny 'stacks' can be turned into prototype pixel-like devices. These 'nano-pixels' – just 300 by 300 nanometres in size – can be electrically switched 'on and off' at will, creating the coloured dots that would form the building blocks of an extremely high-resolution display technology.
The layers of the GST sandwich are created using a sputtering technique where a target is bombarded with high energy particles so that atoms from the target are deposited onto another material as a thin film. 'This makes them potentially useful for 'smart' glasses, foldable screens, windshield displays, and even synthetic retinas that mimic the abilities of photoreceptor cells in the human eye.'
Commenting on the material's commercial potential Bhaskaran said: "This new approach allows us to create materials which can not only manipulate light very cleverly, but are also very cost-effective. We will be creating smart glazing which allows only certain wavelengths of light into a building, giving instant control over both the heat and light being transmitted, and over the appearance of the glass. We will also be working on other applications for these thin film materials including novel reflective displays and security markings. This technology is capable of providing vivid colour displays which appear similar to paper, yet with very high resolution. It is also capable of rendering extremely high-resolution videos that can be seen in bright sunlight."
Investors in the new company include Oxford Sciences Innovation, Oxford University's Isis Fund II, and the Oxford Technology and Innovations EIS Fund.  The University's commercialisation company Isis Innovation supported the team by filing patents, building the business plan and marketing the opportunity.