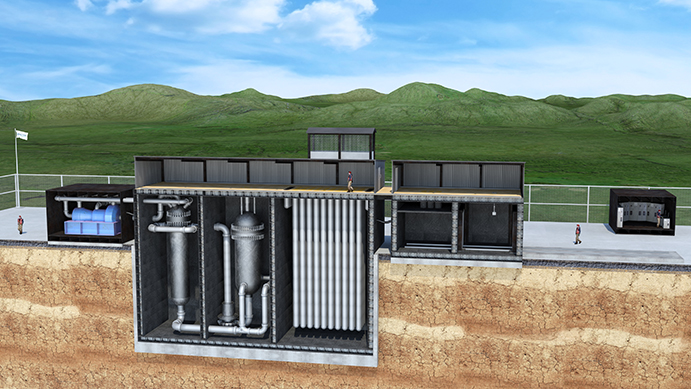 U-Battery is among the SMR designs that will be assessed under the deal
The nuclear sector deal (NSD) includes a long-awaited announcement of technologies the government has selected for development in the small modular reactor (SMR) sector. According to Department of business, energy and industrial strategy (BEIS), "The deal will spearhead Britain's move towards cleaner economic growth, while promoting new opportunities in the sector including a focus on innovation to develop the technology and skills needed to maintain the UK's position as one of the world's leading nuclear countries."
Details of the deal include up to £44m funding to develop advanced modular reactors, a commitment to reduce the cost of nuclear new build by 30 per cent by 2030, and to cut the cost of decommissioning old sites by 20 per cen% in the same period. There will be a new review into ways of accelerating the cleanup of old sites. Clark also signalled an increased commitment to fusion energy research, with the establishment of a national fusion technology centre at Culham in Oxfordshire, the site of the Joint European Torus (JET) fusion experiment and the home of Tokomak Technologies, which is developing fusion reactors based on the spherical tokomak principle. This fusion centre will be supported by £86m funding from the government.
Clark was particularly keen to announce the focus on female engineers in the sector. Currently, the UK nuclear industry has a 22 per cent female workforce, and 15 per cent of its engineers are women. The NSD will deliver 100,000 new jobs in the sector by 2021, and it aims to increase female representation to 40  per cent by 2030.
"The UK is the home of civil nuclear technology and with this investment in innovation and our commitment to increasing diversity in an already highly-skilled workforce, I want to ensure we remain the world leader," Clark said.
The NSD was announced at Trawsfynydd in Snowdonia, the site of a decommissioned nuclear reactor (the only one in the UK not on the coast) and a mooted site for the first small modular reactor project. "This site reflects both the past of our nuclear industry and an exciting future as the potential site for the new generation of small reactors, placing Wales at the centre of a UK arc of the nuclear industry," said Alan Cairns, secretary of state for Wales.
The advanced modular reactor project will see eight designs go forward to detailed commercial and technical visibility studies. This phase 1, £4m has been allocated, and three or four of the designs will then go forward to a second phase for further development, with a possible £40m of further funding subject to a value for money approval from the Treasury. Up to £5m will be made available to regulators to support this, and up to £7m will fund capability and capacity to assess and licence small and novel reactor designs.
The eight companies selected for phase 1 are Advanced Reactor Concepts, a Maryland-based company whose ARC-100 reactor is based on the EBR-II sodium-cooled reactor that operated at the Argonne National Laboratory for 30 years. Because of the use of sodium as coolant rather than water, the reactor vessel is much lighter and cheaper than the massive steel forging used in conventional pressurised water reactors; DBD, which The Engineer understands is a consultancy offering support to an unnamed technology vendor; LeadCold, which has developed the SEALER (Swedish Advanced Lead Reactor), a fast-spectrum molten lead-cooled reactor using uranium oxide fuel; Moltex Energy, which uses a molten salt fuel in standard fuel tubes with a non-pressurised molten salt coolant; Tokamak Energy, frequently featured in The Engineer, which stands out from the crows in being a nuclear fusion rather than fission company; U-Battery, whose encapsulated TRISO fuel-based system has been covered extensively in The Engineer; Seattle-based Ultra Safe Nuclear, whose concept users the same type of encapsulated TRISO fuel as U-Battery; and established nuclear player Westinghouse, whose offering is a scaled-down 225MWe version of its AP1000 reactor design. Rolls-Royce is also mentioned in the NSD document, and its proposal; has also been extensively covered in these pages, but when this article was being prepared it was not clear whether it was part of phase 1.
U-Battery general manager Steve Threlfall commented: "U-Battery is delighted to have received the green light to progress to Phase 1 of the government's AMR Programme. This will involve receiving a first tranche of funding to produce a feasibility study in which we outline the commercial and technical case for U-Battery. The feasibility study will be produced over the next six months, before being submitted to government. We look forward to using the study to demonstrate how U-Battery can deliver a low-carbon solution to address energy and decarbonisation challenges in the UK and global markets."
Andrew Stores, chief executive of the Nuclear Advanced Manufacturing Research Centre in Sheffield, explained the role his institution will play. "We will work with our industry and research partners to demonstrate the benefits of advanced techniques and technologies for manufacturers of all sizes. We will also play a leading role in the new national programme to enhance the capabilities of the UK's supply chain, expanding our established Fit For Nuclear programme and building on the success of Civil Nuclear Sharing in Growth," he said. "We're already working with international partners such as in the United Arab Emirates and South Korea, and with global reactor vendors, to identify export opportunities for the UK supply chain."
Tom Greatrex, chief executive of the Nuclear Industry Association, also welcomed the deal. "By ensuring new nuclear and decommissioning projects are delivered in a more cost-effect manner, it will also provide a major benefit to the consumer," he said.