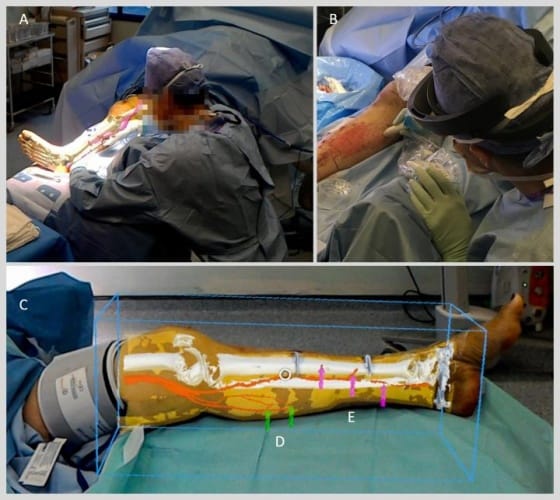 (Credit: 'Philip Pratt, et al. Eur Radiol Exp, 2018)
In what is claimed to be a world first, images of CT scans showing patients' bones and blood vessels were overlaid on lower limbs using the Hololens, a 'mixed reality' visor developed by Microsoft. The technique assisted surgeons in attaching fasciocutaneous flaps – grafts containing skin and blood vessels – to patients that had suffered major trauma, ensuring oxygenated blood was flowing to the grafted skin.
"We are one of the first groups in the world to use the HoloLens successfully in the operating theatre," said Dr Philip Pratt, a research fellow in the Department of Surgery & Cancer and lead author of the study, published in European Radiology Experimental.
"Through this initial series of patient cases we have shown that the technology is practical, and that it can provide a benefit to the surgical team. With the Hololens, you look at the leg and essentially see inside of it. You see the bones, the course of the blood vessels, and can identify exactly where the targets are located."
During the trial, the limbs of five patients were scanned and the images segmented into bone, muscle, fatty tissue and blood vessels. These images were then loaded into intermediary software to create 3D models of the limbs, and specially designed software was used to render the models for the Hololens headset. Clinical staff were able to use hand gestures to manipulate the images and correctly align them with landmarks on the legs such as knees and ankles.
"The application of AR technology in the operating theatre has some really exciting possibilities," said Jon Simmons, a plastic and reconstructive surgeon at Imperial College Healthcare NHS Trust (ICHNT) and the teams surgical lead.
"It could help to simplify and improve the accuracy of some elements of reconstructive procedures. While the technology can't replace the skill and experience of the clinical team, it could potentially help to reduce the time a patient spends under anaesthetic and reduce the margin for error. We hope that it will allow us to provide more tailored surgical solutions for individual patients."
Future plans for the technology include other areas of rehabilitative surgery, such as breast reconstruction following mastectomy.