The device is similar to electric toothbrushes that use ultrasonic waves to oscillate individual bristles; but rather than random, unconstrained movements, they are confined to a single axis in line with the cutting edge of the blade.
This allows for an assisted incision action that is more consistent and requires less force in its delivery, while still allowing the surgeon to retain a proper 'feel' for what he or she is cutting.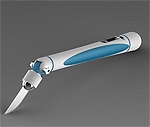 Presenting the work at the Made in Brunel exhibition at London's Oxo Tower, Kourosh Atefipour said he had done extensive research into the field of opthalmic surgery before looking for potential solutions.
'We identified a problem within cataract surgery in the fact that the surgeon has to lay a lot of force with a scalpel in order cut through the collagen — from that I looked into what tools they used to understand what the surgeons require for a successful operation.'
Cataract treatment is an extremely delicate procedure that requires precision and accuracy. Current methods are deemed very difficult owing to the high level of skill needed by the surgeon, resulting in varying success rates.
After consultation with supervisor Prof Tony Anson, a specialist in bio-engineering, Atefipour decided to investigate cutting augmentation using ultrasonic vibrations.
'Vibration enhances cutting, and in order to create that vibration we looked into different sources,' he said. 'Rotary motors were too vigorous and too random — the effect was similar to a jigsaw — so I decided to look into ultrasonic waves to see if a more subtle vibration could be controlled.'
Atefipour built a series of experimental rigs incorporating an ultrasonic source attached to the cutting blade of a scalpel. Using silicon-based materials to mimic human tissues, he then tested various frequency and amplitude ultrasonic combinations.
Atefipour said he was now more or less confident that he had achieved the optimal range of ultrasonic settings and he hoped to produce a handheld prototype that will look much like a regular scalpel but with the option of specifying certain vibration settings.