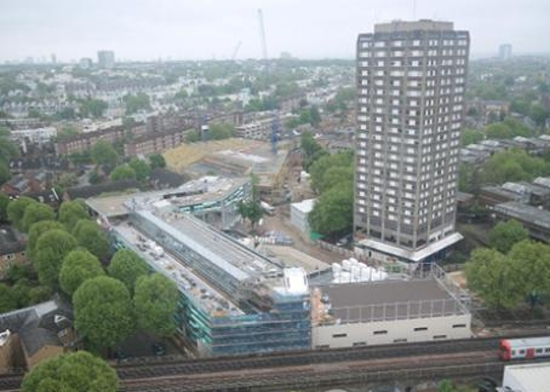 Experts are also questioning whether cladding added to the building contributed to the disaster.
Forty fire engines and over 200 firefighters and officers were called to the Grenfell tower block in North Kensington at 0054 on June 14, 2017 to tackle a blaze that had engulfed the building.
Dany Cotton, London Fire Commissioner said: "This is an unprecedented situation, with a major fire that has affected all floors of this 24 storey building, from the second floor up. In my 29 years with London Fire Brigade I have never seen a fire of this nature."
Built in the 1970s, the Grenfell tower block had last year undergone a £10m refurbishment that saw the bottom four floors remodelled to create nine new homes, plus the addition of rain screen cladding, replacement windows and curtain wall façades. Internally, a new communal heating system and smoke extraction and ventilation system were fitted.
Mark Coles, head of Technical Regulations at the Institution of Engineering and Technology (IET) explained that refurbishment in a multi-occupancy dwelling could involve modifications to the delivery of utilities such as electricity, gas and water.
This can require the routeing of pipes and cables through different sections of a building, and that these penetrations can breach 'what is deemed to be the fire compartment'.
"If a fire breaks out in a flat, for instance, the fire should be contained within the flat," said Coles. "The outer walls, the floor and ceiling form a cell and that's the fire compartment, so if there's a fire it shouldn't get out of that dwelling.
"Where you need to take cables and pipes…in and out of these buildings [then] you need to penetrate the walls. You can't get around this because you need to take services in and out.
"You need to make that penetration as impervious to fire as it was prior to that penetration being cut. The way you do that is with fire seals. If there's a rise in temperature these seals expand and block up all the gaps to stop the spread of smoke and fire. That's what's meant to happen."
Coles added that another aspect of investigation might focus on consumer units – fuse boxes – that from 2015 have had to be made from non-combustible materials instead of plastic.
"In 2005, London Fire Brigade were experiencing around 30 fires a year in this particular area," he said. "In 2015 it had gone up to about 300, and this was put down to poor connections within the consumer unit and with it being made of plastic, which is fuel to the fire."
According to the BBC, residents reported escaping the blaze after being woken by neighbours fleeing the building via a single staircase. Coles said that within BS 5839 Part 1 there are requirements to test the smoke detectors, heat detectors and manual alarm call points at least weekly as part of the ongoing maintenance regime.
"In a multi-occupancy high-rise building such as this, any fire which starts should be sufficiently retained for a period of time within that residential dwelling," he added. "The intent at the design stage of this building was such that the staircases were not intended to be used as a mass escape route. The advice given to residents was that, in the event of a fire, the occupants should remain in their properties. The speed at which this fire spread would suggest that there has been a serious failure in the design and installation techniques employed."
Cladding hazard
Questions are also being raised about cladding fitted onto the Grenfell tower block as part of the building's refurbishment, which was completed in 2016.
Grenfell's refurbishment was undertaken by Rydon for the Kensington and Chelsea Tenant Management Organisation on behalf of the Royal Borough of Kensington and Chelsea.
This included the installation of cladding, which may have contributed to the rapid spread of yesterday's fire that has so far claimed 17 lives.
Dr Kostas Tsavdaridis, structural engineer and Associate Professor of Structural Engineering at Leeds University said: "The fire seems to have not only spread inside the building but also outside. There is a trend nowadays where architects and designers use decorative materials to make buildings more interesting and aesthetically pleasing.
"Some materials used in facades act as significant fire loads: although theoretically they are fire resistant, in most cases they are high-temperature resistant instead of fire resistant. But even if they are, smoke and fire will spread through the joints and connections. Therefore, although regulations can be met by using sprinklers and fire doors for compartmentation, fire can find a way to spread and expand quickly."
The Grenfell Action Group said on its website that it had predicted a catastrophe like yesterday's fire, adding that it was 'inevitable and just a matter of time'.
Robert Bond, CEO, Rydon Group said in a statement that the Grenfell project had met all required building regulations and that handover took place when the completion notice was issued by the Department of Building Control, the Royal Borough of Kensington and Chelsea.
"We are working with the relevant authorities and emergency services and fully support their enquiries into the causes of this fire," said Bond.
According to Dr Tsavdaridis, the proliferation of residential and mixed use towers – particularly in London - should lead to re-think on the use of different advanced materials, early warning systems and better designs to improve evacuation times and escapes routes.
"We cannot have a situation where people's safety is put at risk because of bad or old-type designs or badly maintained tower blocks in code-deficient buildings lead to tragedies like this one in Grenfell Tower," he said. "Standardising checks and processes for refurbished buildings and creating formal regulations should be the starting point from today."