The US Federal Aviation Administration is undertaking airport trials of a counter-drone system developed jointly by three UK companies.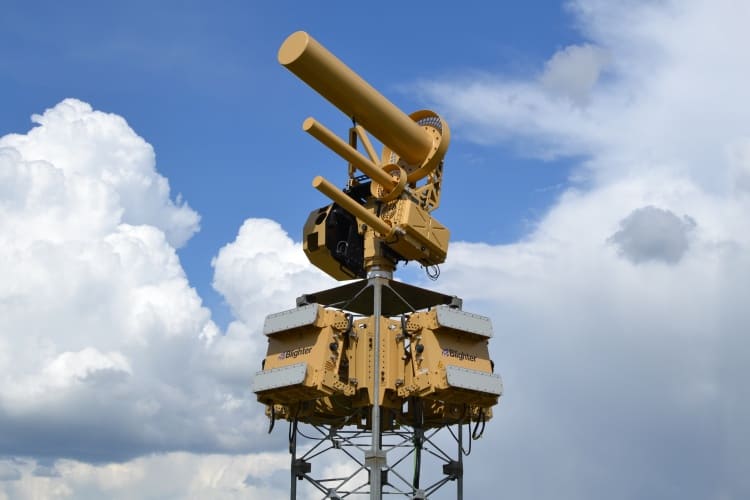 Anti-UAV Defence System (AUDS) is able to detect drones up to 10km away using Ku band electronic scanning radar provided by Essex-based Blighter Surveillance Systems. Once detected, the UAV is tracked with infrared and daylight cameras, and specialist video tracking software. This part of the system is delivered by Chess Dynamics of West Sussex. Finally, a directional radio frequency (RF) inhibitor from Northamptonshire's Enterprise Control Systems disables the UAV.
"AUDS is able to operate effectively in complex airport environments night and day whatever the weather and without disrupting other airport equipment," said AUDS spokesman Mark Radford. "Using AUDS, the operator can effectively take control of a drone and force a safe landing inside or outside the airport perimeter."
According to the AUDS partners, the entire operation from threat detection to grounding typically takes 8-15 seconds. The team has carried out over 400 hours of 'live' testing in government related trials against more than 400 flown sorties of group 1 UAVs.
"The FAA contacted our team following the success of AUDS at US Government sponsored counter UAV trials at the end of 2015," Radford continued. "These trials confirmed that our production system was able to detect, track, disrupt and defeat a wide range of micro, mini and larger unmanned aerial vehicles (UAV) or drones – even on unscripted sorties."
FAA says it receives over 100 reports each month from pilots and airport personnel who have spotted UAVs flying too close to airports or aircraft. In April, drone strike on a British Airways plane landing at Heathrow was reported, although subsequent investigations were unable to confirm the incident. As well as protecting restricted airspace, Radford claims AUDS is able to provide evidence that could help authorities track down and prosecute the owners and operators of rogue UAVs.
"The system can also assist airport authorities to track down the UAV pilots for prosecution by providing evidence (video footage or radar tracks) to the relevant authorities," he said. "We can also integrate 'friendly assets' into the AUDS platform – for example a 'friendly' drone – to extend the threat detection and situational awareness capabilities of the system and to help capture rogue drone pilots."