Now inventor Silje Rabben and three of her fellow students have founded a company called Kaliber Industrial Design and are looking for investors to help market their invention, the MOSE — an acronym for 'Mechanical Oil spill Sanitation Equipment'.
Today's oil spill clean-up technology usually involves the use of an absorbent material, such as bark or peat moss, to soak up the oil. Workers then have to remove the wet, heavy absorbent material and the remaining oil residue may have to be scrubbed off the rocks.
'The oil vacuum cleaner automates what we currently do manually,' said Rabben. 'It is common to use bark to absorb the oil, so we have also used it. But it is also possible to use peat moss or chemical absorbents.'
In use, the machine first sprays bark or other absorbent material onto the spill. Rotating brushes in the head work the oil and the absorbent material together. When the oil and absorbent material are thoroughly mixed, the direction of the rotating brushes is reversed, enabling the bark to be sucked up into the equipment while the rocks are simultaneously scrubbed.
The vacuum cleaner currently weighs about 10kg but the engineers are working to cut its weight to 5kg. The equipment will also be redesigned so that it can be folded up to be more compact.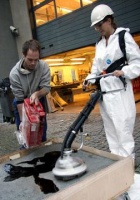 Silje Rabben (right), a master's student at the Norwegian University of Science and Technology's department of product design, demonstrates the use of a new kind of vacuum cleaner she and three other students have developed to clean up oil spills