US researchers have designed a lab on a chip capable of being programmed to perform a variety of jobs, a step toward more widespread use of the miniature analytical tools used to measure everything from blood glucose to viruses, and bacteria to genes.
Current lab-on-a-chip technology is expensive and time consuming to develop because each chip must be specifically designed to perform certain assays or chemical analyses.
Researchers at Purdue University have developed both the hardware and software to create a more versatile chip. It is capable of being programmed for any number of tasks, according to Steven T Wereley, an associate professor of mechanical engineering.
Doctoral students Han-Sheng Chuang and Ahmed Amin worked with Wereley to create the prototype, in research at the Birck Nanotechnology Center in Purdue's Discovery Park.
Lab-on-a-chip technology is currently used for various applications in medicine and research. The systems are used for measuring specific types of cells and molecules in a patient's blood, monitoring micro-organisms such as bacteria and fungi in the environment and separating biological molecules for laboratory analyses.
But the chips, which are roughly palm size or smaller, are difficult to design and manufacture.
'With conventional technology, you have to design the individual layout of the chip, fabricate it, test it and then redesign it when testing uncovers problems,' said Wereley. 'You are talking about a lot of time, effort and expense that could be dramatically reduced by having a multipurpose programmable chip.'
The new chip is made out of a rubber-like polymer, called polydimethylsiloxane (PDMS), instead of the rigid glass or silicon wafers that are often used. The flexible material is needed because pumps used to direct the flow of fluid operate with moving diaphragms.
The Purdue-designed chip is able to mix, store, heat and sense what a sample is made of, whereas previous programmable chips have been limited to mixing and storing samples.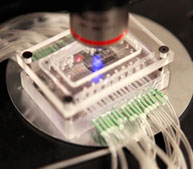 The researchers have demonstrated that the device works and claim that it is likely to be commercially available within five years.